Civics' Bonnel Commits to NCAA D3 Stevenson
June 12th, 2017 at 1:05PM
June 12th, 2017 6:34PM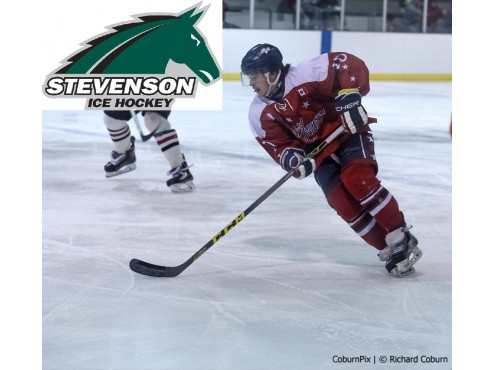 ---
One of the most offensive prolific players in New Tecumseth and area history, Cullen Bonnel, has committed to play the 2017-2018 season with Stevenson University (NCAA III).
Bonnel who played in Alliston as a member of both the Civics and the Coyotes and also spent time with another New Tecumseth area team, the Steam, will advance with the second most points in Franchise history torching opposing defenses for 152 Points (61G, 91A) in 88 career games with the Coyotes and Civics. He was often so successful due to his speed, his quick hard shot, and his ability create a play when there is seemingly none.
Prior to his joining of the GMHL Bonnel, who hails from Mechanicsville, Maryland played two seasons of junior hockey, his rookie season he spent with the Washington Jr Nationals in the MetJHL, and the following season he played for the Syracuse Jr Stars in the USPHL Elite League. Where he developed the speed and footwork you see him excel at in his game today.
Bonnel had plenty to say about his time in New Tecumseth, all positive, "My time with the Civics (and Coyotes) was great. Made a lot of new friends and learned things as well. It made me a better hockey player being the older guy on the team having the younger guys look up to me and helping them . It was a great season with great coaches. Next season I'm looking forward to going to school at Stevenson University to play D3 hockey. Excited to start this new journey. Going back to school and playing more hockey. Making new friends and having a fun freshman year is going to be my goal."
Civics (and former Coyotes) President Nikita Vasilyev was very proud to see all of the hard work he knows Bonnel put in over the last two years finally pay off, "Ever since Cullen came up here to play last year with the Coyotes I have been seeing him put in the time and the work all leading up to the time when he would advance his career. Too see such a talented player's hard work payoff is one of the best parts of my job. I wish Cullen the best of luck as he continues playing at the NCAA level"
Bonnel will be joining a Stevenson team looking for players with exactly his skillset as they come off their first season in school history and will be looking to add the type of explosive offensive talent that Bonnel brings to the table
From those who got to see you with the Coyotes to those who got to see you play with the Civics we are all excited to see what you have in store for the next chapter of your career and wish you a very warm Civic Nation sendoff.