Laker's Lanetz Commits to IUP (ACHA D1)
May 28th, 2018 at 9:40AM
June 14th, 2018 2:31PM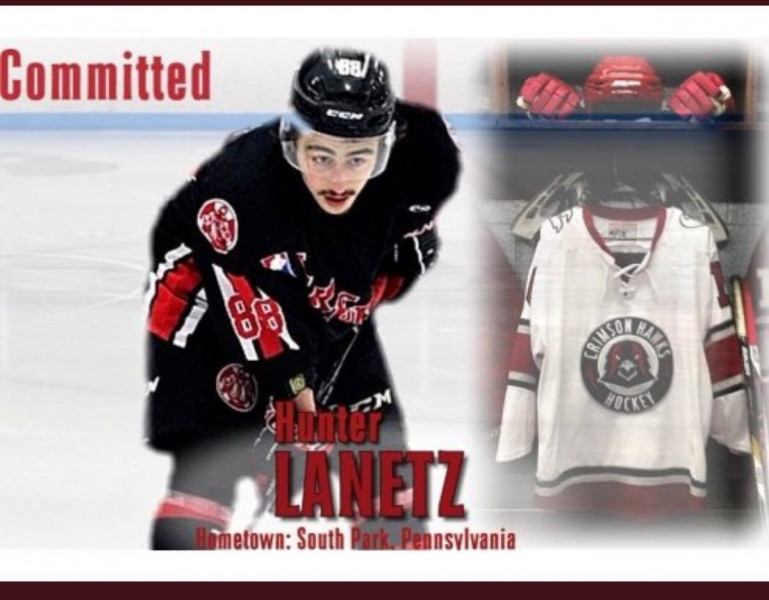 ---
Indiana, PA- The Indiana University of Pennsylvania Crimson Hawks has committed forward Hunter Lanetz, to their ACHA Division I Hockey Team. Lanetz is a two-year GMHL veteran, spending last season with the London Lakers in the South Division.
Lanetz had been on the Crimson Hawks radar before coming to the GMHL, as he was a highly touted prospect in Pennsylvania High School Hockey, amassing an impressive 39 Goals and 37 Assists for 76 Points in only 65 Games Played for his Varsity Team at South Park High School. This caught the notice of teams around the GMHL, and soon Lanetz found himself playing for the London Lakers. The 5'7 158 pound forward put up 4 Goals and 14 Assists for 18 Points in 30 Games Played this season. The Crimson Hawks took notice of his success at the Junior Level, and decided that with two years of Junior Hockey under his belt, Lanetz was ready to make the next jump to University Hockey.
ACHA Division I is the highest level of club hockey at the university level, and has risen in it's competitive reputation over the past decade. ACHA Division I helps advance players to NCAA D3 hockey and to the professional levels, and has seen players move on to the FHL, SPHL, and ECHL after finishing their education. We are proud to see Lanetz reach this level of hockey, and we hope he continues to have success at the next level.
Congratulations Lanetz on your commitment to the Indiana University of Pennsylvania Crimson Hawks, and we wish both you and your team luck next season.