Two GMHL Alumni Win Pro Championship
May 30th, 2018 at 9:21AM
May 30th, 2018 3:07PM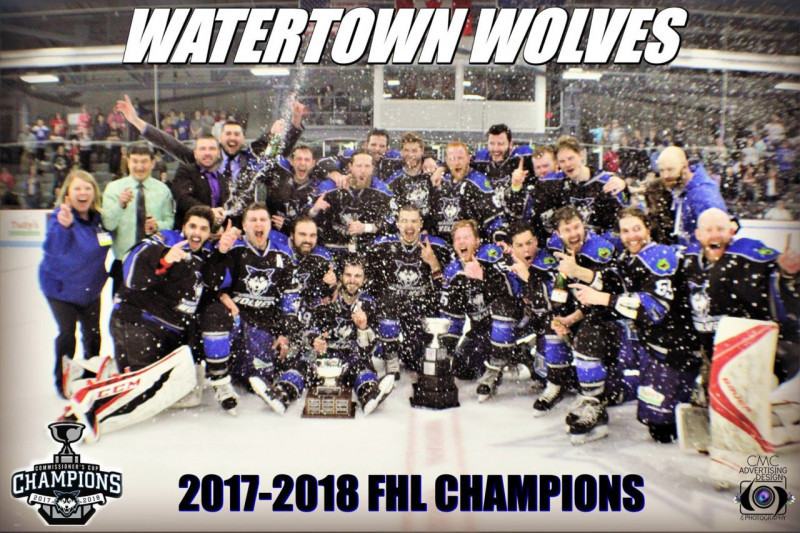 ---
Watertown, NY- The Watertown Wolves of the Federal Hockey League (FHL) are now the proud owners of the Commissioner's Cup, including two former GMHL players, Kyle Powell and Dallas Ingram.
Kyle Powell (D/F) played for the Oshawa Riverkings in 2015-2016, and was their Captain that season. Kyle had a particularly impressive season that year with a stat line of 105 Points (51 G 54 A) in only 38 Games. Kyle certainly impressed everyone around the GMHL, but he also impressed people in the FHL, and received 10 call up games throughout the season. Kyle went on to sign for the Watertown Wolves the following season and became a regular in the line-up posting 35 Points in 52 Games his rookie season. This earned him a contract for the next season and he kept up his production with 61 Points in 47 Games.
Dallas Ingram (D) played for the Toronto Blue Ice Jets in 2013-2014, and was an instrumental part of that team. Dallas put up 25 Points in 32 Games in the GMHL, but he was known for his grittiness and competitiveness on the ice, proving to be one of the harder players to play against in the GMHL. Dallas signed a contract with the Watertown Wolves in 2016-2017, and posted 10 Points in 43 Games, which earned him a contract for the 2017-2018 season. Dallas brought his grit to the Watertown Wolves this season posting 23 Points and 93 PIMs in 47 Games.
Congratulations to Kyle, Dallas, and the Watertown Wolves on their Commissioner's Cup, and we wish them luck next season!