GMHL Alumni Update: David Savery
June 1st, 2018 at 9:48AM
June 1st, 2018 3:22PM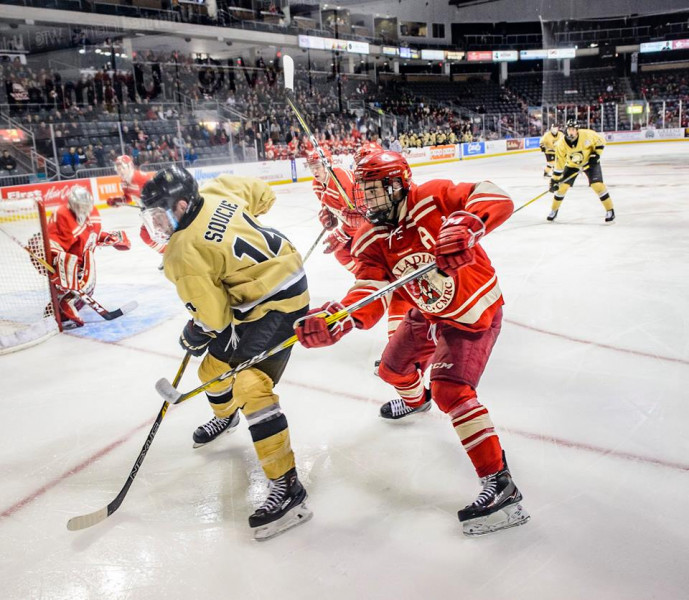 ---
Kingston, Ontario- David Savery, former Tottenham Steam defenceman, has just finished his third year for Royal Military College Hockey in USports, which is the Canadian University Hockey League.
Savery played for Tottenham in 2014-2015, and was their top defenceman, GMHL All-Star, and a huge part of Tottenham's Regular Season Championship, which saw them win every regular season game at home and an impressive record of 37-5-0. On an individual level, Savery was known as a stingy and aggressive defenceman with an offensive upside. He led the Steam in defensive scoring, posting a stat line of 15 Goals 53 Assists for 68 Points in only 39 Games Played. This impressive season earned Savery a spot at Royal Military College in USports.
After adjusting to the university level his first two years, and in the 2017-2018 Savery was named Assistant Captain of his team and continued his point production. Savery led his team in defensive scoring, and was second in overall scoring for his team this season, with a stat line of 6 Goals and 16 Assists for 22 Points in 26 Games Played. This is an impressive feat at this level of hockey. USports boasts rosters full of ex-CHL (OHL, QMJHL, WHL) players, and is a very high level of hockey which see's players move on to the professional level including the SPHL, ECHL, AHL, and even NHL, such as Joel Ward on the San Jose Sharks.
The GMHL is happy to see one of it's alumni continue his success at this level of hockey, and we wish Savery and the Royal Military College the best of luck next season.