Former Rattler Promoted to Allsvenskan
June 6th, 2018 at 9:18AM
June 6th, 2018 2:19PM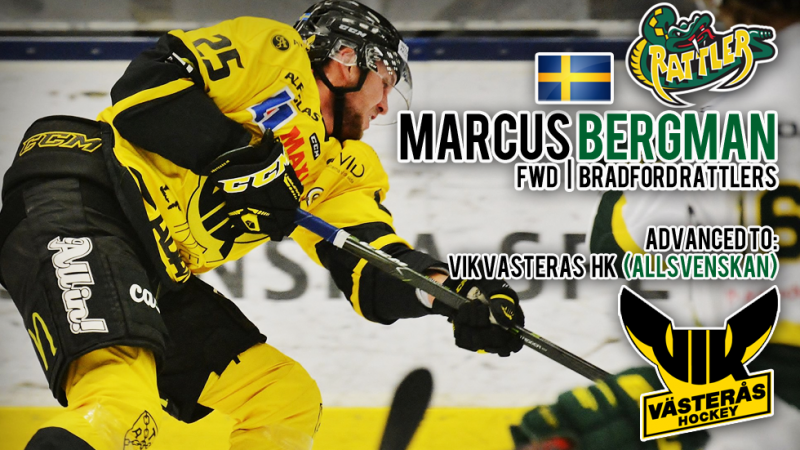 ---
Västerås, Sweden- VIK Västerås HK has been promoted from Division 1 (HockeyEttan) to Allsvenskan in Sweden! Apart of this squad is former GMHL and Bradford Rattlers player Marcus Bergman.
Marcus Bergman came to the Bradford Rattlers in the GMHL the 2012-2013 season, and was a part of the historic 42-0-0 regular season for the Rattlers. The Rattlers went on to win the Russell Cup that season as well. Bergman played a huge role for the Rattlers and he was known for his speed, skill, and power on the ice. The 6'2 205 pound forward was an offensive force on the Rattlers first line posting 21 Goals and 17 Assists for 38 Points in 18 Regular Season Games. In the Russell Cup playoffs he kept up his production posting 15 Goals and 23 Assists for 38 Points in 15 playoff games.
This earned Bergman the attention of a lot of professional teams, and he ended up playing in Division 1 for IFK Tumba. After a few seasons Bergman signed with VIK Västerås HK, and has been a big part of the team. This season Bergman posted 16 Goals and 8 Assists for 24 Points in 27 Regular Season games, and then he posted 4 Goals and 3 Assists for 7 Points in 5 Playoff games en route to an Allsvenskan promotion.
Allsvenskan is the second highest level of hockey in Sweden and one of the top leagues in all of Europe. It has seen high-end players, such as NHL players Anze Kopitar, David Pastrnak, and William Karlsson, play in it's league. We are proud that one of our alumni is apart of this high level of hockey, and we hope to see more players advance to this level in the future. We wish Marcus Bergman and VIK Västerås HK the best of luck next season in Allsvenskan!