Former St. George Raven to NCAA Division 1
June 11th, 2018 at 9:47AM
June 11th, 2018 6:05PM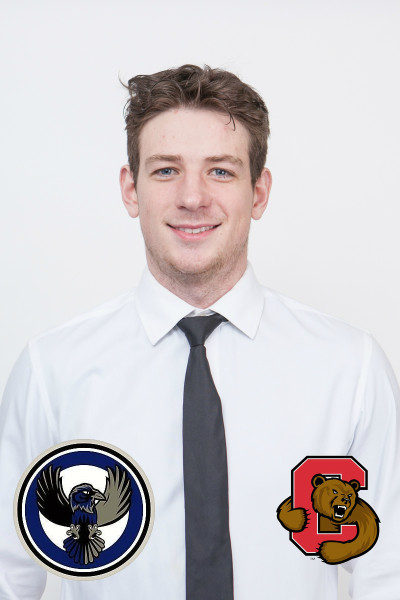 ---
Ithaca, New York- Former GMHL and St. George Ravens player Joseph Leahy is heading to Cornell University, a NCAA Division 1 program, for the 2018-2019 season!
Joseph Leahy came to the GMHL in the 2013-2014 season, and was apart of the inaugural season for the St. George Ravens. Leahy assisted on the first goal in Ravens history in their first game against the Bradford Rattlers. The St. George Ravens have always been known as a team that brings in talent and skill to their program, and Leahy was no exception. The 6'3 200 pound defenceman bolstered the Ravens blue line in 2013-2014, and was able to bring an offensive upside to the team. Leahy finished the season with 3 Goals and 13 Assists for 16 Points in 26 Regular Season Games Played. Although Leahy was only 16 years old at the time, he was a top defenceman for the Ravens, and the higher levels of hockey noticed this. Eventually Leahy would move on to the British Columbia Hockey League (BCHL), which is considered one of the top junior leagues alongside the USHL and NAHL.
Leahy spent most of his time with the Penticton Vees while playing in the BCHL, and had a career best season in 2016-2017 season. Leahy had 5 Goals and 13 Assists for 18 Points in 55 Regular Season Games Played, and he had 0 Goals and 2 Assists for 2 Points in 22 Games Played en route to a BCHL Championship. Winning a championship at any level is a great accomplishment, and the GMHL was proud to see one of its former players win a championship at this level of hockey. Universities started to take notice of Leahy in this tremendous year, and eventually Leahy committed to Cornell University for the 2018-2019 season, giving him one more season in the BCHL to prepare for NCAA Division 1 hockey, where he split time with the Penticton Vees and the Salmon Arm Silverbacks.
NCAA Division 1 hockey is the highest level of University hockey in the world, and has seen some of the most skilled players play in it's league, such as NHL players Jack Eichel, Johnny Gaudreau, Jonathan Toews, and many more. It's great to see a former GMHL player reach this level of hockey, and that the GMHL and the St. George Ravens was apart of Leahy's development and path to the BCHL and NCAA D1. We wish Leahy and Cornell University the best of luck next season!