Former Bull Re-Signs with KHL Affiliate
June 13th, 2018 at 9:00AM
June 13th, 2018 2:06PM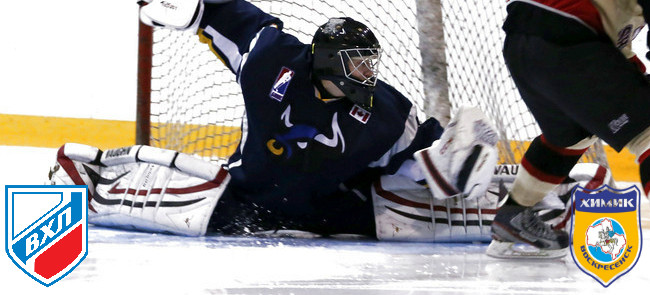 ---
Voskresensk, Russia- Former Bradford Bulls goalie Sergei Bolshakov has re-signed with Khimik Voskresensk of the VHL, the affiliate league of the KHL!
Bolshakov played in the GMHL for the Bradford Bulls in 2013-2014. Bolshakov has been considered one of the best goalies in GMHL history. As a rookie, Bolshakov put up tremendous stats, finishing the regular season with 2.46 GAA and .932 S% in 24 Games Played. Bolshakov received the honours of GMHL All-Star, GMHL Rookie of the Year, and GMHL Top Goaltender. Bolshakov continued his impressive play for the Bulls into the playoffs and posted 1.89 GAA and .947 S% in 13 Playoff Games en route to a Russell Cup Championship. Bolshakovs impressive year in the GMHL turned a lot of heads at the next level, and he found himself splitting time between the KHL and the MHL (Russian Major Juniors) the following year.
Bolshakov spent another season in the MHL, and continued to impress teams at every level, including a #8 ranking in the NHL Central Scout for the 2016 NHL Entry Draft for European Goalies. Although Bolshakov wasn't drafted to the NHL, he was able to pick up a contract in the VHL with Khimik Voskresensk for the 2017-2018 season. Bolshakov played the back up role for the team, however Khimik Voskresensk was impressed with Bolshakov's standard of play, and he received an extension for the 2018-2019 season, where he will be making a bid for the starting job.
The VHL is the second league in Russia, and one of the top leagues in Europe. The league is affiliated with the KHL, which is arguably the second best league in the world. Specifically, Khimik Voskresensk is affiliated with HC Spartak Moscow, which is one of the premier teams in the KHL. The VHL not only advances players to the KHL, but has sent players to the AHL and NHL as well. It is great to see a former GMHL player at this high level of hockey, and we wish Bolshakov and Khimik Voskresensk the best of luck next season!