Titan Commits to Selkirk College Saints (BCIHL)
June 29th, 2018 at 9:12AM
June 29th, 2018 2:13PM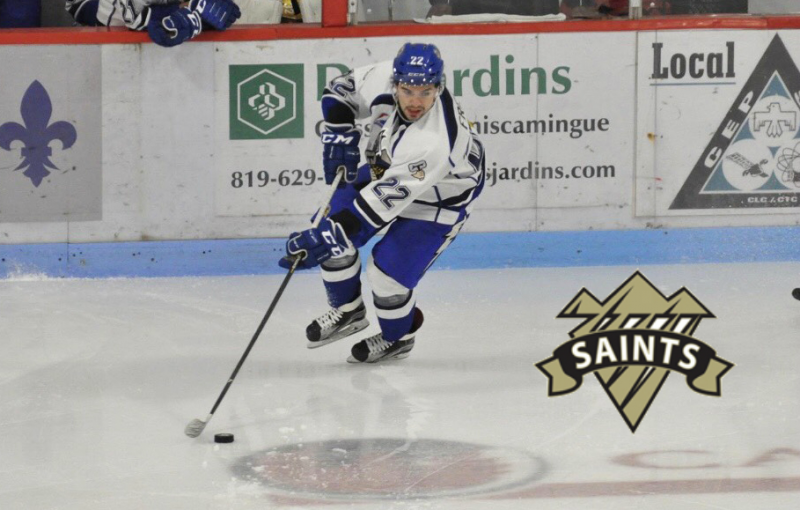 ---
Castlegar, British Columbia- The Temiscaming Titans have advanced Forward Rylan Freed to the Selkirk College Saints, which plays out of the British Columbia Intercollegiate Hockey League (BCIHL)!
Freed joined the GMHL for the 2017-2018 season, playing for the Northern powerhouse, the Temiscaming Titans. The Titans have always run a strong program, and has always put a top end team on the ice. Freed was an important piece of the Titans offensive core last season, proving to be an offensive threat for the Titans team, as well as being a responsible player in his own end. The two-way centre put up tremendous numbers for the Titans, recording 44 Goals 56 Assists for 100 Points in only 35 Regular Season Games Played, and he recorded 0 Goals 5 Assists for 5 Points in 5 Playoff Games Played, and he also received a call up to the North Shore Knights, a professional team that plays out of the FHL. The GMHL took notice of Rylan Freed's incredible season, and he was voted the GMHL's Most Valuable Player (North). With a great season behind him, Freed looked on to the next level, and soon he was committed to the Selkirk College Saints for the 2018-2019 Season.
Freed will be joining a world-class organization in the Selkirk College Saints. They have a tradition of winning, and were winners of four straight championships between 2013-2016. Last season they made it to the BCIHL Championships, but lost out to the Trinity Western University Spartans. The Selkirk College Saints, including Head Coach Brent Heaven, holds Freed in high regards. "Rylan is a player that we feel has an exceptional upside, he brings more than 180 games of Junior A experience and with that a deep knowledge of what it takes to succeed," says Heaven. "We expect Rylan to be able to help bolster the Saints offense, while increasing the level of compete within our group." Freed is looking forward to joining the Saints next season as well, where he will be studying at the School of Business Administration. "The reason I chose Selkirk College was mainly because the college was very welcoming, they were understanding with the program I was interested in taking and were interested in helping me with my future," says Freed. "On the ice, I look forward to bringing some speed and offense along with a good two-way game because everything starts from your defensive zone."
The BCIHL is a high level of hockey, comparable to NCAA D3, and has advanced players to professional hockey such as the ECHL (North America) or the EIHL (Europe). We are happy to see our players being advanced to this level of hockey, and we wish Freed and the Saints the best of luck next season!