Former Shield Player Re-Signs to Germany3
July 4th, 2018 at 10:40AM
July 4th, 2018 3:41PM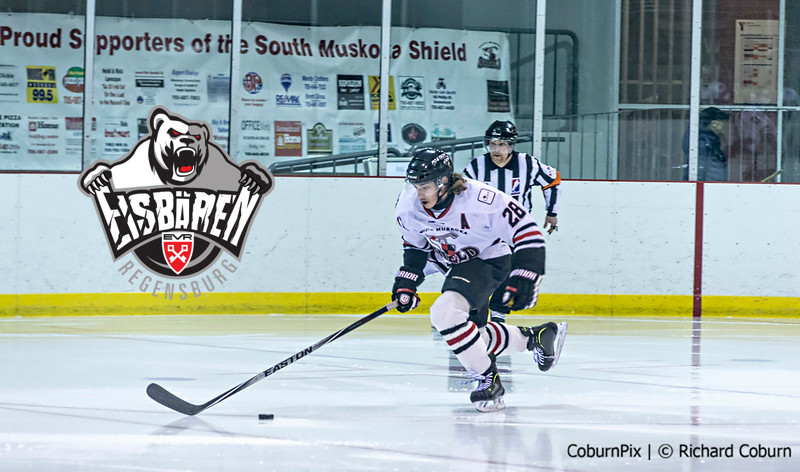 ---
Regensburg, Germany- Former South Muskoka Shield Defenceman Lars Schiller has just signed to Eisbären Regensburg, a professional hockey team that plays out of Germany3 (Oberliga)!
Schiller joined the GMHL in 2016-2017 playing for the South Muskoka Shield, where he immediately became a leader for the team, becoming an Assistant Captain for the team. Schiller was an offensive defenceman for a strong Shield team, he was their leading point scorer for defenceman on his team and was third overall in points on his team. Overall, Schiller finished the season with 18 Goals 43 Assists for 61 Points in 42 Games Played, helping South Muskoka to finish third in the North Division. This earned Schiller the honour of being announced to the GMHL All-Star Game. Schiller continued his performance into the playoffs where posted 2 Goals 2 Assists for 4 Points in 9 Games Played, before losing out to the Parry Sound Islanders who went on to reach the Russell Cup Finals. Schillers time in the GMHL lead to interest at the professional level, and soon Schiller received a two-way contract in the DEL2 with Lausitzer Füchse.
Schiller split time last year between the DEL2 and Germany3 where he played 18 Regular Season Games in the DEL2 and 14 Regular Season Games in Germany3. Schiller didn't see the offensive production he saw at the junior level, however, he is seen as a good defensive prospect, who has a lot of upside potential in the future. Eisbären Regensburg saw this potential last season, and has signed Schiller to a one-year contract for the 2018-2019 Season.
Germany3 is the third league in Germany, and is one of the leagues on the rise in Europe. The league is affiliated with the DEL and DEL2, which are arguably some of the best leagues in Europe. Germany3 not only advances players to the DEL and DEL2, but has sent players to other high levels of professional hockey, such as the AHL. It is great to see a former GMHL player at this high level of hockey, and we wish Schiller and Eisbären Regensburg the best of luck next season!