Former Civic Re-Signs in Russian Major Juniors (MHL)
July 11th, 2018 at 10:10AM
July 11th, 2018 3:11PM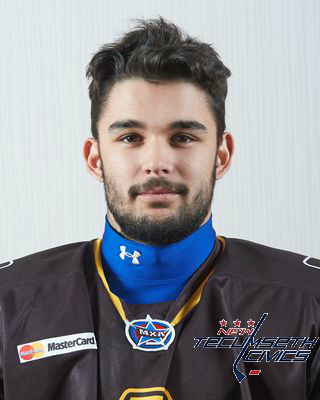 ---
Mytishchi, Russia- Former New Tecumseth Civic Defenceman Nikita Polukhin has signed with the Atlanty Mytishchi, a Russian Major Junior team that plays out of the MHL!
Polukhin joined the GMHL in 2016-2017 playing for the New Tecumseth Civics. Polikhin's impact on the Civics defence was felt immediately, playing a shut down style game, and creating chances in the offensive zone with his incredible passing abilities. Polukhin put up 1 Goal1 18 Assists for 19 Points in 21 Regular Season posting close to a point per a game as a defenceman. Polukhin's efforts on the back-end helped New Tecumseth secure the top spot in the North Division, finishing first with a record 37-5-0, and the lowest Goals Against in the league. After getting a year of experience at the junior level, Polukhin landed a contract at the Major Junior level, playing for Almaz Cherepovets in the MHL for the 2017-2018 Season.
Polukhin spent 19 Games with Almaz Cherepovets posting 1 Assist in 19 Games Played before he was traded to Serebryanye Lvy St. Petersburg where he posted 1 Assist in 5 Games Played. Although Polukhin's offensive numbers weren't quite there, he was able to bring quality defence to his game. Atlanty Mytishchi took notice of Polukhin, and see a lot of potential for Polukhin's game, and have signed him for the 2018-2019, where Polukhin looks to become a top defenceman for the team.
The MHL is the Major Junior League of Russia, and is comparable to the CHL (WHL, OHL, QMJHL) in Canada. It is one of the top junior leagues in Europe and is affiliate to the VHL and KHL, with Atlanty Mytishchi specifically being affiliated with Spartak Moscow of the KHL, one of the premier teams in the league. The MHL not only advances players to the VHL and KHL, but has also helped advance players to the AHL and NHL level, such as Yevgeni Svechnikov (Detroit Red Wings), Nikita Zaitsev (Toronto Maple Leafs), Nikolay Goldobin (Vancouver Canucks), and many others. We are proud to see our players move on to these levels of hockey, and we wish Polukhin and Atlanty Mytishchi the best of luck next season!