GMHL Alumni Signs PTO in the KHL
July 23rd, 2018 at 10:29AM
July 23rd, 2018 3:35PM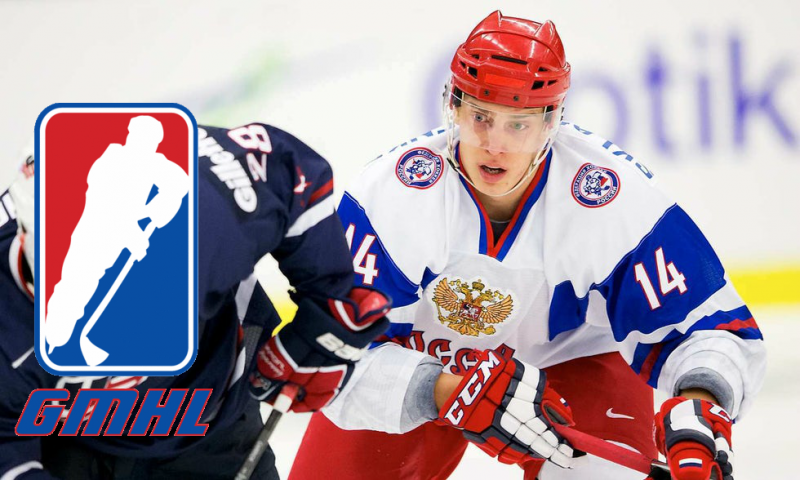 ---
Vladivostok, Russia- Former GMHL Forward Nikolai Skladnichenko has signed a PTO with the Admiral Vladivostok of the KHL!
Skladnichenko joined the GMHL in 2009-2010 as a 15 year-old rookie for the Bobycaygeon Bucks. Skladnichenko came to the Bucks at the deadline when they were looking to make a push for the playoffs. Skladnichenko struggled at first with the Bucks only posting 1 Goal in 6 Regular Season Games Played and going with 0 Points in 3 Playoff Games Played. The Bucks saw the potential in Skladnichenko though, and had him re-signed to the team for the 2010-2011 Season. Skladnichenko adjusted to the junior level in this season, and he became at top player for the team, and in the league, finishing the season with 25 Goals 25 Assists for 50 Points in 42 Games Played for the Bucks. Skladnichenko's play in the GMHL was noticed at the next level, and he was drafted straight out of the GMHL to the KHL, going to Barys Astana in the 4th Round 101st Overall.
Skladnichenko was signed to a two-way deal, and was sent to Barys Astana's affiliate team in the VHL, Titan Klin. Skladnichenko didn't produce the way he did at the junior level, but he used this time to develop to the professional level. Skladnichenko was traded to Metallurg Novokuznetsk, where he signed a three-year two-way deal with the team. Skaldnichenko would split time between the KHL for Metallurg and it's affiliate, but producing more and more each year at the KHL level. A highlight in Skladnichenko's career occurred in his time at Metallurg when he played at the World Junior Champions for Russia's U20 team in 2013-2014, helping the team to a bronze metal, and playing alongside/against the top prospects in the world such as Nikita Zadorov (Colorado Avalanche), Andrei Vasilevsky (Tampa Bay Lightning), Connor McDavid (Edmonton Oilers), and many others. Skladnichenko went on to sign a three-year two-year deal with Amur Khabarovsk of the KHL where he would split time between them and their affiliate for the first two years, however spending his entire year in the VHL his final year. Skladnichenko has now signed a PTO with the Admiral Vladivostok of the KHL, where he joins former West Nipissing Lynx defenceman Mikhail Patrikeev, where they are both looking to receive a regular role on the team in the KHL.
Between the World Junior Championships, the VHL, and KHL, Skladnichenko has played among the highest levels of hockey in the world that has seen players such as: Connor McDavid (WJC U20), Nikita Soshnikov (VHL), Alexander Ovechkin (KHL), and many others. The GMHL is proud to see one of its alumni playing at these levels of hockey, and we hope to see Skladnichenko continue his success at the professional level!