Former GMHL Head Coach Appointed Toronto Maple Leafs Scout
July 31st, 2018 at 8:47AM
July 31st, 2018 2:03PM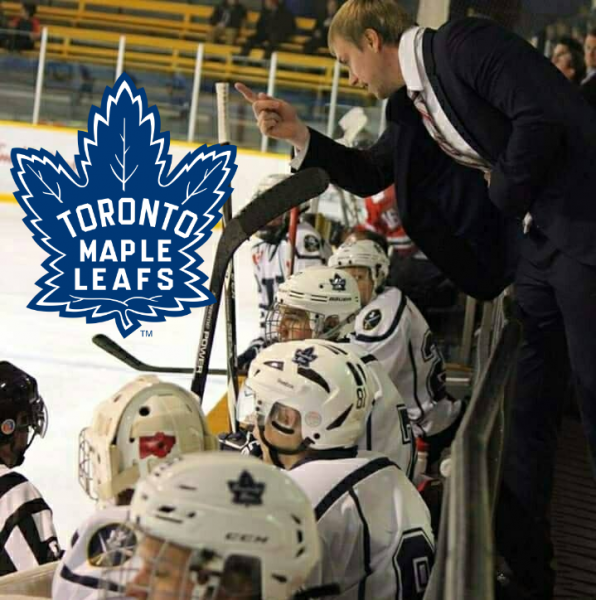 ---
Toronto, Ontario- Former GMHL Head Coach Olegs Koreskovs has been appointed as an Amateur Scout for the Toronto Maple Leafs of the NHL!
As a player, Koreskovs played in the USHL, and was apart of the Latvian World Junior Championship team, before moving on to play 12 years of professional hockey in Latvia, Belarus, and France. Koreskovs decided to hang up the skates in 2013-2014, but didn't stay away from hockey for long, and was named a scout in the NAHL for the Coulee Region Chill in 2014-2015. Koreskovs joined the GMHL in 2015-2016 as the Head Coach for the Bracebridge Blues, bringing a tremendous background in Junior Hockey, twelve years of experience in professional hockey, and was named a scout in the NAHL for the Coulee Region Chill as well as in the USHL for the Chicago Steel. Koreskovs coached the Bracebridge Blues to a 6th Place finish in the North Division, with a record of 19-20-3, before losing out to the Almaguin Spartans in the playoffs, who would go on to represent the North Division in the Finals.
After a year of coaching under his belt, Koreskovs decided to focus specifically on scouting, and in the 2016-2017 Season he was extended as a scout for the Coulee Region Chill of the NAHL, brought on to the Minnesota Magicians scouting staff in the NAHL, and extended with the Chicago Steel of the USHL. Last season Koreskovs committed to scouting just for the Chicago Steel of the USHL, and he gained a reputation around the hockey world as an incredible scout. The Toronto Maple Leafs took notice of Koreskovs reputation, and they have appointed him as an Amateur Scout for the Leafs in the 2018-2019 Season!
Between the World Junior Championships, the USHL, and the twelve years of professional hockey, Koreskovs played among the highest levels of hockey in the world that has seen players such as: Connor McDavid (WJC U20), David Backes (USHL), Pierre-Édouard Bellemare (France), and many others. The GMHL is proud to have Head Coaches of this caliber behind our bench, and we are happy to see Koreskovs continue his success as a scout at the NAHL, USHL, and now the NHL level for the Maple Leafs. The GMHL wishes Koreskovs the best of luck with the Toronto Maple Leafs!