Former Bulls Forward Commits NCAA III
August 10th, 2018 at 9:28AM
August 10th, 2018 2:33PM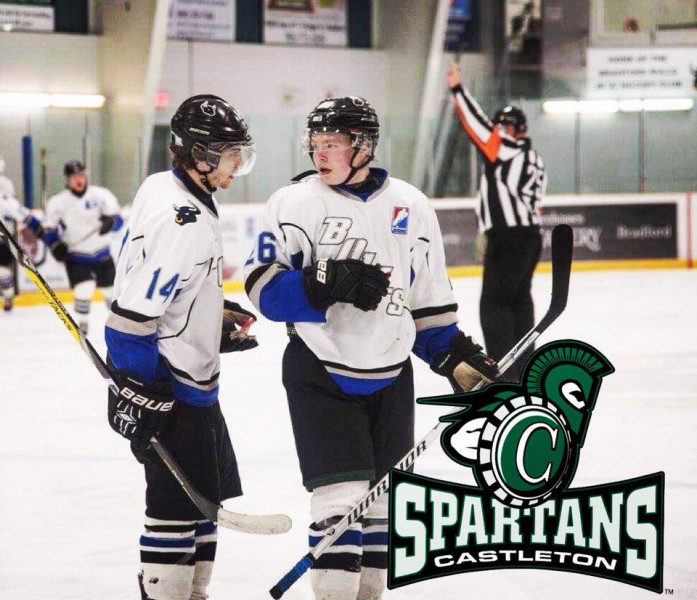 ---
Castleton, Vermont- Former Bradford Bulls Forward, Anton Tarvainen, has committed to Castleton University, a NCAA III program!
Tarvainen joined the GMHL for the Bradford Bulls in 2016-2017, and he became a core piece on the Bulls squad. Tarvainen was a second line centre with the Bulls, who played well in both ends, and was known for his sportsmanship, only receiving 20 PIMS in 41 Games Played. Tarvainen was productive for the Bulls as well and ended up 5th Overall on the team in scoring posting 15 Goals 21 Assists for 36 Points. Tarvainen had a great year with the Bradford Bulls, and was a bright spot in the Bulls 2016-2017 Season. Tarvainen decided to return to Finland for the 2017-2018 Season where he played for Karhu-Kissat U20, which plays in Jr. A SM-Liiga, the highest level of junior hockey in Finland. In 18 Games Played for Karhu-Kissat U20, Tarvainen put up 3 Goals 1 Assist for 4 Points. Tarvainen's play at the junior level received a lot of attention, especially in his time in North America. Tarvainen proved that he could play the North American style of the game, and this summer he committed with Castleton University, a NCAA III program!
NCAA III is the second highest level of university hockey in the United States, and advances players to professional leagues, including the SPHL and the ECHL. Specifically, Castleton has advanced three players from last season to professional, two to the SPHL and one to the NLB. Castleton University is also known for it's academics and 14 of their players were on the NEHC All Academic-Team, which requires a 3.0 GPA to be on. The GMHL is proud to see one of its alumni playing at this level of hockey, and on such a high caliber team as well. We wish Tarvainen and Castleton University the best of luck this upcoming season!