Rattler Alumni Receives PTO in Mestis
August 22nd, 2018 at 12:04PM
August 22nd, 2018 7:59PM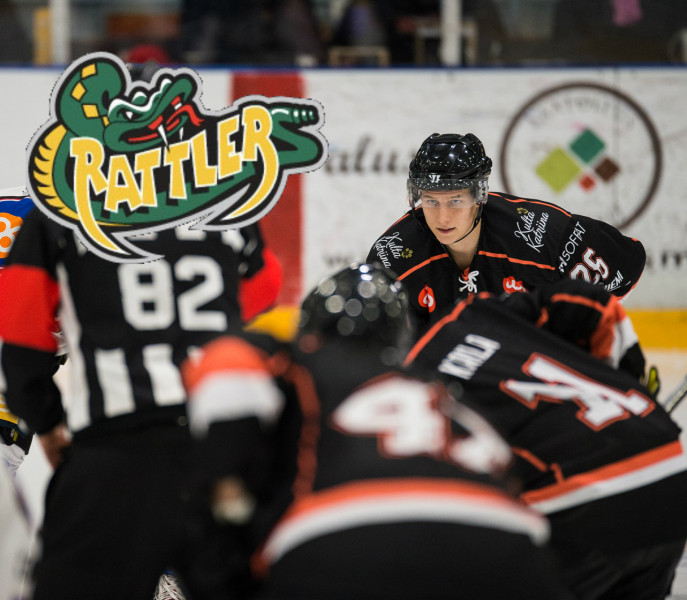 ---
Heinola, Finland- Former Bradford Rattler, Mikko Lindbom has received a PTO with Peliitat, a professional hockey team out of Finland! Peliitat plays out of Mestis, the second tier professional league in Finland.
Lindbom joined the Rattlers in the 2014-2015 Season, and was considered to be a high-end player going into the season. Lindbom proved everyone right, and became a top forward for the Rattlers that season. Lindbom posted 24 Goals (2nd Overall for Rattlers), including 7 Game-Winning Goals (1st Overall for Rattlers; 3rd Overall for GMHL) 41 Assists (1st Overall for Rattlers) for 65 Points (2nd Overall for Rattlers), and only posted 10 Penalties in Minutes in 36 Games Played, which earned him the GMHL Most Sportsmanlike Award. Current Rattlers Assistant Coach and Lindbom's former teammate, Joshua Willenborg, said about Lindbom, "Mikko was one of the most pure-skilled players I've seen come to the Rattlers. He was extremely creative in the offensive zone, and always created scoring chances, making the players around him better. He was the driving force for our offense that year, and without him I don't think that we would have been as successful in the offensive zone." Lindbom had been scouted all year in his time with the Rattlers, and with a successful year of North American junior hockey, he was ready to make the jump to professional hockey, signing Division 2 in Sweden, their fourth tier professional league, for the 2015-2016 Season.
In Sweden, Lindbom would continue his offensive production, and he would go on to post 6 Goals 12 Assists for 18 Points in 15 Games Played in Division 2. Lindbom had wasted no time adjusting to the professional level, and the following season he would move up in the professional ranks, playing in Suomi-Sarja, the third tier professional league in Finland. Lindbom took more time to adjust to this level of professional hockey, only posting 1 Point in 10 Games, and was sent down to his teams affiliate where he would post 4 Goals 10 Assists for 10 Points in 5 Games Played. Lindbom re-signed at the Suomi-Sarja level the next year, however, he stormed out of the gate for his team, where he posted 16 Goals 16 Assists for 32 Points in 32 Games Played. Lindbom's season in Suomi-Sarja received a lot of notice, and he has received a Professional Tryout (PTO), with Peliitat of Mestis.
Mestis is the second tier professional league in Finland, and is comparable to the SPHL, the ECHL, and Allsvenskan, which are all considered high-end levels of professional hockey. Mestis is known for it's high-end prospects that play within the league and move on to higher levels of professional, such as Liiga, KHL, and even the NHL. Some of the alumni that has played in Mestis includes: Patrik Laine (Winnipeg Jets), Joonas Donskoi (San Jose Sharks), and Mikael Granlund (Minnesota Wild). The GMHL is proud to see one of it's alumni given a chance to play at this high level of hockey, and we wish Lindbom continued success in his professional career.