2018-2019 GMHL Preview: Almaguin Spartans
August 27th, 2018 at 3:59PM
August 29th, 2018 8:49PM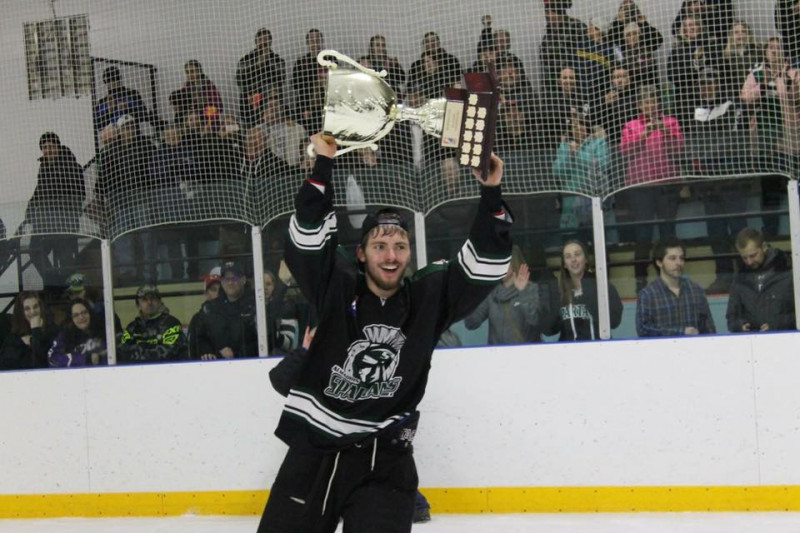 ---
South River, Ontario- On March 31, 2018, the Almaguin Spartans etched their name into GMHL History, winning the Russell Cup Championship over the St. George Ravens. This offseason, the Spartans were looking towards rebuilding in the 2018-2019 Season. However, the Spartans received huge support from the community this offseason, and they are now looking toward building a team that can contend for back-to-back Russell Cup Championships for the first time since the Bradford Rattlers in 2007 and 2008.
2017-2018 Stats:
GMHL North Division Standings-1st
GMHL North Division Best Goals For Rank: 4th
GMHL North Division Best Goals Against Rank: 2nd
Overall Record: 31-11-0
Major Subtractions:
Bryan Austin (D)- 165 GP 35 G 187 A 222 TP; Spartans Captain 2015-2018; GMHL All-Star 2015-2016; GMHL Best Defenceman (North) 2017-2018
Matthew Labrosse (F)- 33 GP 50 G 36 A 86 TP; Spartans Assistant Captain 2017-2018; GMHL Top Forward (North) 2017-2018
Britton Whitehead (F)- 142 GP 67 G 115 A 182 TP; Spartans Assistant Captain 2016-2018; GMHL Top Defensive Forward (North) 2017-2018
Honourable Mentions- Alexandre Gauthier & Erik Spath
Major Additions:
Adam Cech (D)- Four-Year Junior Hockey Veteran (1 MHL-B & 3 WSHL); Acquired in a trade with the London Lakers
Charles Blandin (D)- 36 GP 7 G 18 A 25 TP in 2017-2018 with Temiscaming Titans & Seguin Huskies; Acquired in a trade with the Bradford Bulls
Overview:
The Spartans have lost a lot of their veteran presence, such as Bryan Austin, Matthew Labrosse, and Britton Whitehead. Between Whitehead and Austin alone, there was a total of 307 GMHL Games Played. Experience is hard to replace, and the Spartans are hoping that Spartan players such as Zach Thorsen can pick up where Austin and Whitehead left off in terms of bringing experience to the team. General Manager David Forde has been working the free agency and trade market this summer, and has landed two solid defencemen in Adam Cech and Charles Blandin. Cech is a four-year hockey veteran that will bolster the Spartans D core and Blandin brings in some GMHL experience after spending last season with the Huskies and the Titans. Another aspect the Spartans have going for them is in their coaching staff. The Spartans have never boasted the most skilled teams necessarily, but they play such a smart style of hockey that they are one of the toughest teams to play against year in and year out. On the bench the Spartans have Myles Pepin as Head Coach, who may not have things like NHL experience on his resumé, but has definitely earned the reputation as one of the best and smartest coaches in the league. On the bench with Myles is Assistant Coach Gary Coalter who has 34 Games NHL experience, 258 Games AHL experience, and 165 ECHL Games experience to his name, which always a tremendous asset to have behind the bench. Pepin and Coalter make the perfect combination on the bench, and with General Manager David Forde working hard off the ice, there's no reason to believe that the Spartans don't have a chance at repeating as Russell Cup Champions.