2018-2019 GMHL Preview: Temiscaming Titans
August 29th, 2018 at 3:38PM
August 29th, 2018 9:08PM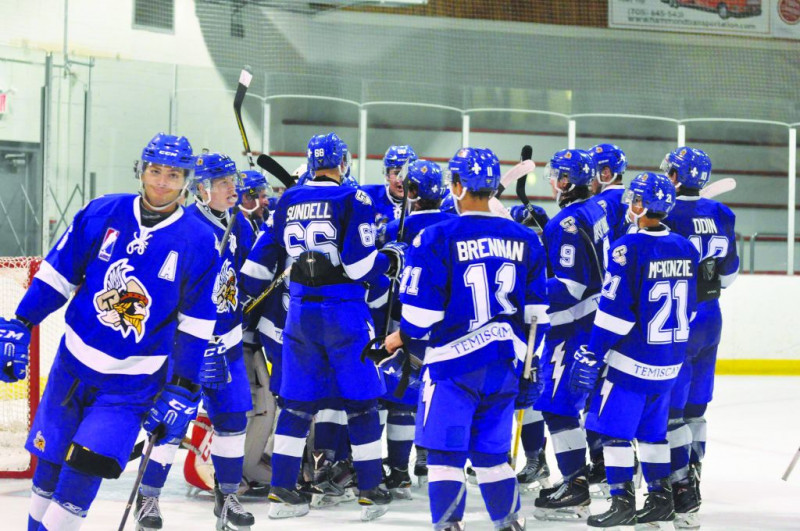 ---
Temiscaming, Quebec- The Titans have been a powerhouse in this league for quite some time, and never fail to put talent on the ice for their fans to see, making the Russell Cup Finals in three of four years between 2011-2015. However, since their 2015 Russell Cup Championship, the Titans have failed to make it past the second round of the playoffs. This season the Titans are looking to be a top team in the league again, and hopefully get past the second round for the first time since 2015, with maybe even a Russell Cup Finals appearance.
2017-2018 Stats:
GMHL North Division Standings- 4th
GMHL North Division Best Goals For Rank: 2nd
GMHL North Division Best Goals Against Rank: 3rd
Overall Record: 29-12-1
Major Subtractions:
Rylan Freed (F)- 35 GP 44 G 56 A 100 TP; Titans Assistant Captain
Simon Brännvall (F)- 42 GP 38 G 37 A 75 TP
Jakob Vilhelmsson (F)- 112 GP 44 G 75 A 119 TP; Titans Assistant Captain
Honourable Mentions- Nicholas Proulx & Guillaume Taupier
Major Additions:
Dayton Murray (D)- Five-Year Junior Hockey Veteran; OHL Experience; Brother of former Titans Captain and legend Ryder Murray
Erik Lilliecreutz (F)- Played two years SuperElit in Sweden (Comparable to OHL)
Justin Roy (Coach)- Four-Year Junior Player; Four-Year NCAA III Player
Honourable Mentions- Liam Walker & Victor Mattsson
Overview:
Towards the end of the 2017-2018 Season, the Titans made some changes to their team. Some notable changes included getting rid of their Head Coach with nine games left in the season, as well as trading their Captain at the time Guillaume Taupier to the New Tecumseth Civics. They replaced their Head Coach with Justin Roy, a local of Temiscaming, who had played four seasons in the NOJHL and four seasons in NCAA III as a player, and although he may not have the high-end experience such as NHL on his resumé, he has promise as a coach, finishing the year 5-3-1 with the Titans. The Titans are hoping that Roy can continue where he left off last season behind the bench. Replacing Taupier as Captain was Dayton Murray, who the Titans managed to pick up at the deadline, and brings with him five years of junior experience including OHL experience, a GMHL Championship in 2014-2015 with the Titans, and is the brother of the Titans legend and former Captain Ryder Murray. This wasn't enough for the Titans though, and they went out in the second round to the Almaguin Spartans. The Titans were playing the long game though, and although they've lost quite a selection of players, such as Freed, Brännvall, and Vilhelmsson, they have a nice foundation to work with Head Coach Justin Roy and Captain Dayton Murray. Temiscaming also has some notable returners as well as some great offseason signings. Alexandre Provost-Ross will be back for his second season with the Titans, as well as Julien Vogt who has played in Frances top professional league. The most notable new signing for the Titans though goes to Erik Lilliecreutz, a Swedish forward who has played SuperElit, which is similar to the OHL. If there's one thing for sure, it's that the Titans will have a strong team for the 2018-2019 Season, the only question is, how far will they make it? We'll find out.