2018-2019 GMHL Preview: St. George Ravens
September 1st, 2018 at 7:44PM
September 2nd, 2018 12:57AM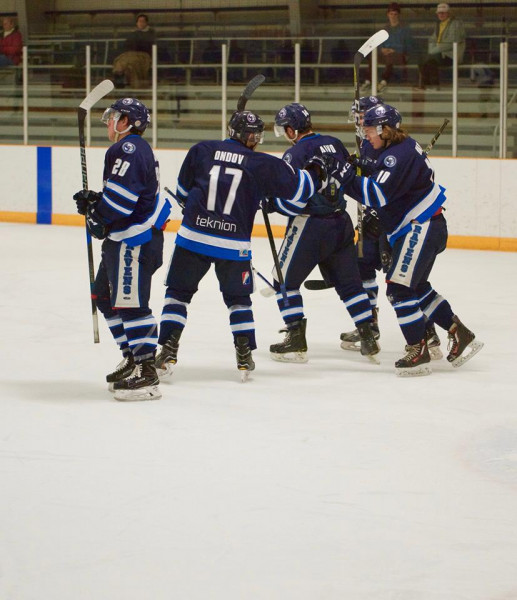 ---
St. George, Ontario- The Ravens have been one of the top teams in the South Division since they joined the league in 2013-2014. Last year the Ravens finally clinched the South Division for the first time in franchise history, and reached the Russell Cup Finals before losing out to the Almaguin Spartans. It was a definitely a franchise year for the Ravens, however they're looking to not only win the South Division this season, but win the Russell Cup Championship as well.
2017-2018 Stats:
GMHL South Division Standings- 1st
GMHL South Division Best Goals For Rank- 1st
GMHL North Division Best Goals Against Rank- 2nd
Overall Record- 38-3-1
Major Subtractions:
Chris Haigh (F)- 40 GP 48 G 89 A 137 TP; GMHL All-Star (South) 2016-2017; GMHL Most Assists 2017-2018; GMHL Most Points 2017-2018; Assistant Captain 2016-2018
Guy Polillo (F)- 42 GP 30 G 63 A 93 TP; Captain 2017-2018
Jackson Swindells (G)- 25 GP 3.25 GAA .912 S%; GMHL Top Goaltender (South)
Honourable Mentions- Luke Gazzola, Adam Kawalec, Alessio Piroso, and Lucas Pozzobon
Major Additions/Returners:
Anthony Mota (F)- Three-Year Junior Hockey Veteran
Carson MacRae (F)- Two-Year Junior Hockey Veteran; Junior Championship Winner; Two-Year Prep School Player
Marko Ondov (F)- 36 GP 30 G 56 A 86 TP 2017-2018; Ravens Fan Favourite
Jordan Clarke (D)- 104 GP 7 G 48 A 55 TP; Three-Year Ravens Veteran
Dane O'Neil (Coach)- Four-Year Head Coach with Ravens; 2014-2015 GMHL All-Star (South); GMHL Coach of the Year (South)
Overview:
The Ravens have lost quite a bit of their top end talent. However, they have always been great at recruiting top end talent, specifically local talent, so it's safe to assume they will be able to replace the top end talent they have lost. Two players that will be great additions to the Ravens squad are forwards Anthony Mota and Carson MacRae. Between the two of these forwards, there is five-years of experience at the junior level combined, and Carson MacRae has won a championship at the junior level as well in 2015-2016. Returning to the Ravens squad is Jordan Clarke who will be playing his fourth year with the Ravens and Marko Ondov who will be playing his second year with the club, and is a fan favourite of the team. Another returning piece for the St. George Ravens comes off the ice, as coach Dane O'Neil will be returning for his fifth year with the club. O'Neil has had great success with the Ravens and every year he's been behind the bench the Ravens have had a winning season. O'Neil also received the honours of GMHL All-Star in 2014-2015 (South) as coach, and won GMHL Coach of the Year (South) 2017-2018 leading the team to it's best season in franchise history. With new pieces and old, the Ravens are looking to build on their franchise best season, and hopefully capture their first Russell Cup Championship next year.