Pink in the Rink Comes to the GMHL
October 21st, 2018 at 9:12AM
October 21st, 2018 2:58PM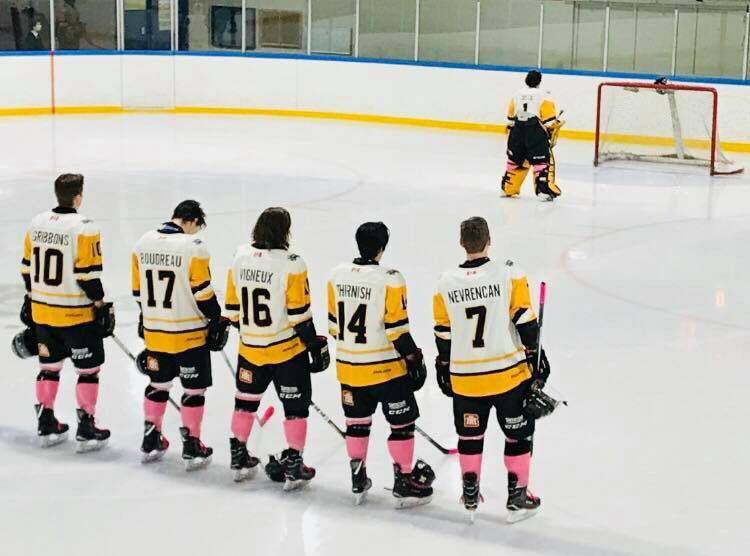 ---
Bradford, Ontario- October has come, and that means that the hockey season is underway throughout the hockey community, including the GMHL. However, there is more to October than hockey, October is also Breast Cancer Awareness Month.
According to the Canadian Cancer Society, "1 in 8 women will be diagnosed with Breast Cancer in Canada, which equals 72 women each day. However, in the last 20 years the breast cancer death rate has dropped by 44%, and the current 5-year survival rate is now 87%. This is due in large part to research advancements that have improved early detection, diagnosis, and treatment." All of this would not be possible without the incredible support that comes with Breast Cancer Awareness Month. However, the Canadian Cancer Society says, "There's still more work to do." With the ultimate goal being a world where no one has to worry about cancer.
Teams around the GMHL have taken up the cause, and have been doing Pink in the Rink Nights to raise awareness about Breast Cancer, such as the West Nipissing Lynx on October 19th versus the Bradford Bulls. Another notable team that held a Cancer Awareness Night, were the Northumberland Stars, who held their Hockey Fights Cancer Night on October 19th as well. The Northumberland Stars had a special guest at their Cancer Awareness Night, three-time cancer survivor Natalie Hall, whose grandson Joshua Hall plays for the Stars squad. The New Tecumseth Civics also took part in the CIBC Run for the Cure in Alliston as well, which helped raise donations for the Canadian Cancer Society, and have been wearing the Pink Ribbon sticker on their helmets for the month of October.
The GMHL is proud to see it's teams bringing awareness to this incredible cause, and we hope to see this trend continue throughout the league.
Source: http://www.cancer.ca/en/about-us/news/national/2017/breast-cancer-awareness-month/?region=on