October Players of the Month
November 1st, 2018 at 11:50AM
November 1st, 2018 4:53PM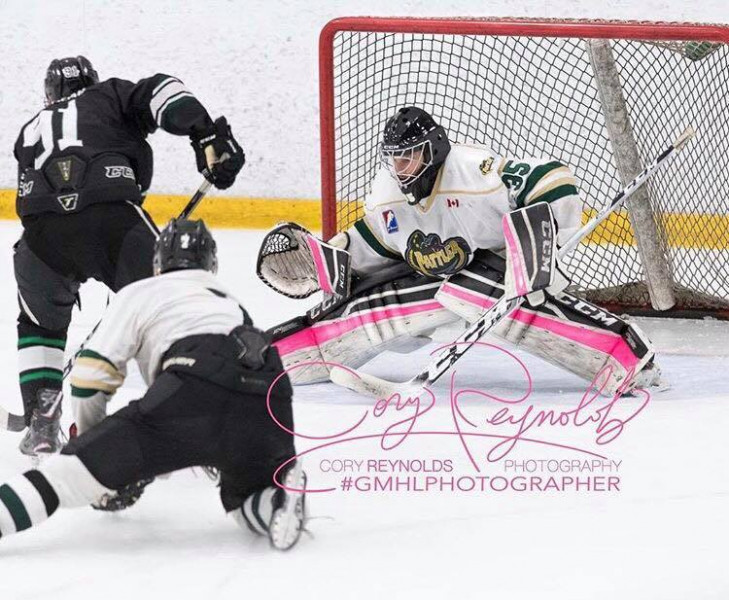 ---
Bradford, Ontario- The GMHL is proud to release its choices for Players of the Month for the month of October. To recap, last months Players of the Month for the month of September were Bryce Yetman of the Windsor Aces (Forward), Aleksi Haapakoski of the Kingsville Kings (Defence), Giulio Costa of the West Nipissing Lynx (Goalie), and Ildan Gazimov of the Almaguin Spartans (Rookie).
Forward – Ivan Bondarenko (Tillsonburg Hurricanes)
Tillsonburg Hurricanes forward Ivan Bondarenko has been a driving force for his team. So far he has put up 33 Goals (1st on team & in league), 24 Assists (1st on team & 5th in league), and 57 Points (1st on team & 2nd in league). Needless to say he has been a high-end asset for the Hurricanes squad. There was question about whether Bondarenko would continue his pace of play from September, but he has put any doubts to rest, and has helped Tillsonburg get to their best start in franchise history, at 9-3-0 and 3rd in the South Division with 2 Games in hand on Kingsville (1st) and St. George (2nd).
Defence – Trevor Costello (Tottenham Steam)
Trevor Costello is in his fifth year in the GMHL, and brings a lot of experience to the Tottenham Steam. In the off-season, Costello was drafted to the Port Huron Prowlers of the FHL, a pro-league, and was among the last cuts at the Prowlers Camp, before returning to the Steam. Costello has been consistently good in his time in the GMHL, however, this year he's gotten off to a tremendous start. Costello has always been a great player in his own end, playing stingy defence, and shutting down opponents. However, what's separated his performance this year is his offensive production, which adds another element to his game. So far Costello has almost a point-per a game with 11 Points in 13 Games, and is on pace to beat his career high of 21 Points in a season.
Goalie – Trevor Babin (Bradford Rattlers)
Last year, Trevor Babin was runner up for Goalie of the Year (North). This year, it seems he's bound and determined to capture that honour for himself. Babin has been instrumental in the Rattlers hot start to 11-1-1 for 2nd in the North Division, and he has some of the best stats in the league for goalies. He is tied for 1st in Wins (10), 4th in GAA with 6 Games in Hand on 1-3 (2.27), and 2nd in S% with 6 Games in Hand on the goalie in 1st (0.940). If Babin can continue his pace of play for the Rattlers, he will definitely be contender for Goalie of the Year (North), and the Rattlers will definitely be contenders for the Russell Cup.
Rookie – Santino Foti (North York Renegades)
Santino Foti is in his first year of Junior Hockey, playing for the North York Renegades. Prior to joining the GMHL Foti played for the Mississauga Terriers in the GTMMHL. Foti has adjusted well to the junior level, and has immediately become an impact player for the Renegades. So far Foti has 8 Goals (Tied 2nd on team), 9 Assists (3rd on Team), and 17 Points (Tied 1st on team). It is always impressive to see a rookie lead the team in points, and the Renegades hope that Foti can continue his production for the team.