Knights of Meaford Give Back to Community
November 9th, 2018 at 10:42AM
November 9th, 2018 4:43PM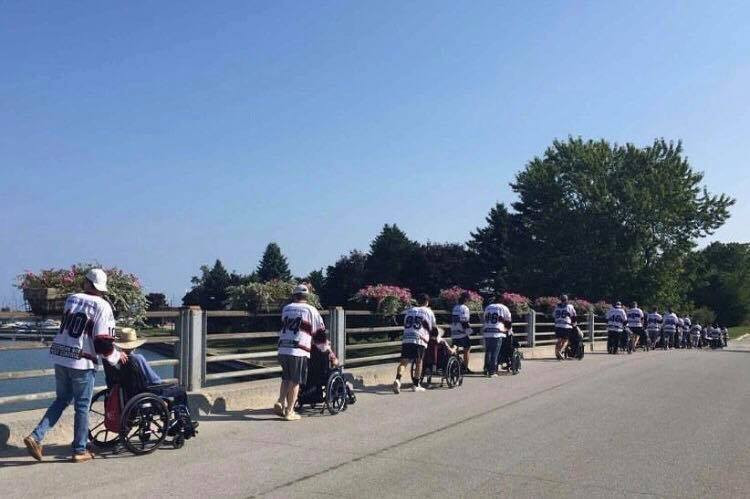 ---
Meaford, Ontario- On the ice, the Knights of Meaford have been known to be one of the hardest working teams, as well as being gritty, making them one of the hardest teams to play against. However, it isn't just their play on the ice that stands out, but what they do off the ice as well. The Knights have one of the best reputations in the league in their community, and it's because of all the community work they do as a team off the ice.
Before the Knights even took the ice this year to start their season, they were already working hard off the ice in their community. On September 16th the Knights participated in the Terry Fox Run in Meaford with the local nursing home residents. Even after the season began for the Knights, the community work didn't stop, and on September 30th the Knights participated in Meaford's annual Scarecrow Parade, where they walked in the parade, and volunteered at the festival afterwards interacting with kids in their community. The Knights even continued their work in the community through the Thanksgiving Break, and on October 6th volunteered at the their local firehouses open house, and on October 7th participated in a food drive at their local Valu-Mart for the Golden Town Outreach where all items were given to the Meaford Food Bank. Finally, on October 13th, the Knights participated in the Community Helpers Dinner as volunteers as well. In total, the Knights of Meaford have participated in five events within their local community as volunteers, and it has only been one month into the season, but the Knights don't plan on slowing down.
The GMHL is proud to see on of it's franchises giving back to their community, and we hope to see that trend continue throughout the league. Be sure to catch the Knights of Meaford at the Meaford & St. Vincent Community Centre, or watch them on GMHL.tv.