Teddy Bear Toss in the GMHL
December 7th, 2018 at 9:50PM
December 8th, 2018 2:29PM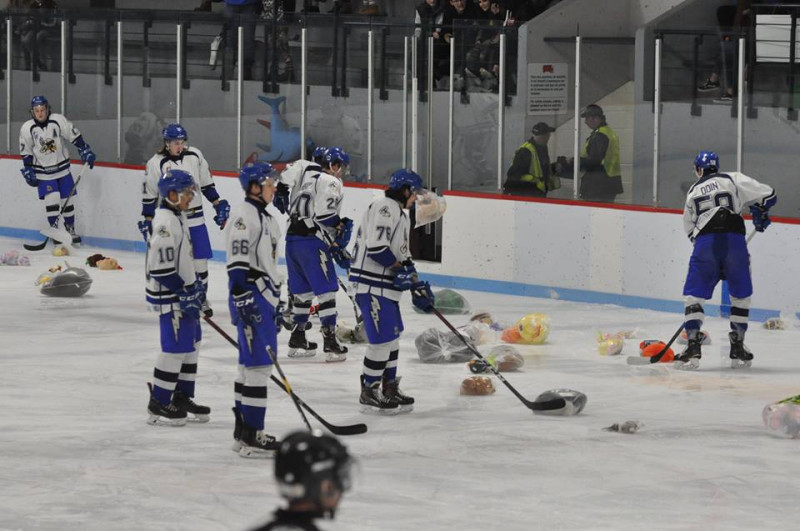 ---
Bradford, Ontario- December has come, and we are now three months into the GMHL Season. However, there is more to December than hockey. December is a time for celebration, due to the many different holidays surrounding the month, including Christmas and Chanukah, with themes that include family and giving. However, some families are less fortunate than others, and this can be a difficult time of year for them. Which is why some teams around the league have taken up the Teddy Bear Toss in order to support local charities who take the teddy bears as donations to give to these families.
The Teddy Bear Toss has been a popular form of charity around the hockey world, which originated in 1993 with the Kamloops Blazers of the WHL. In the Teddy Bear Toss, fans are encouraged to bring teddy bears or other stuffed toys to the game, and to throw them onto the ice when the home team scores its first goal. The toys are gathered up to be donated as presents to hospitals and charities. In many cases, the players themselves personally donate some of the bears to children at area hospitals.
Teams around the GMHL have taken up the cause, including the Temiscaming Titans, who hosted their game on November 23rd where a total of 152 Teddy bears were collected and donated to the Temiscaming & District Lions Club to be distributed with their Christmas food baskets. Another team to host a Teddy Bear Toss Night were the Niagara Whalers on December 7th, who included a canned food drive and a raffle supporting the local Port Cares Charity, raising over $1005.00.
The GMHL is proud to see it's teams joining in on this wonderful hockey tradition, and we hope to see other teams join in on the Teddy Bear Toss in the future!