Former Raven Advances from USports to Pro
July 20th, 2018 at 12:52PM
July 20th, 2018 5:52PM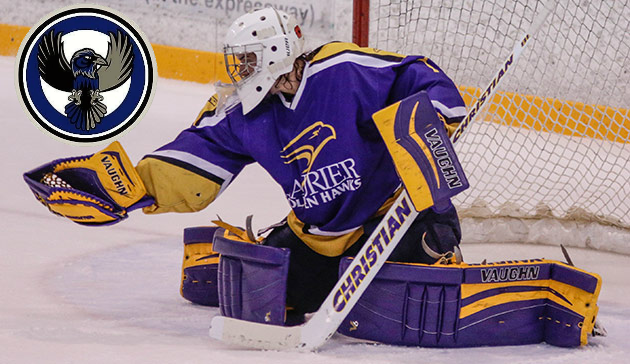 ---
Brunico, Italy- Former St. George Ravens Goalie, Colin Furlong, has advanced from USports, the Canadian University Hockey League, to professional hockey, signing a contract with Pusteral/Val Pusteria out of the AlpsHL!
Furlong joined the St. George Ravens in their second season as a franchise in 2014-2015. Furlong came in as an experienced junior veteran, including a year in the OHL with the Kingston Frontenacs, and immediately became the starter of the team. Furlong didn't stay the full season with the Ravens though, and half-way through the year, he advanced to Wilfred Laurier University which plays out of USports. In his time with the Ravens as their starter, Furlong posted a 3.48 GAA and .904 S%, and then went on to Wilfred Laurier the same season, struggling a little bit at first, posting a 4.00 GAA and .885 S%. Furlong was able to adjust to University hockey in his second year with Wilfred Laurier and from there he ran away with the starting position. In the next consecutive three years Furlong posted a 2.79, 2.48 2.32 GAA and a .921, .928, .927 S%. With these incredible three years of USports hockey under his belt Furlong was ready to make the jump to the professional level, and has signed a contract with Pusteral/Val Pusteria out of the AlpsHL for the 2018-2019 Season where he will make a bid for the starting job.
USports boasts rosters full of ex-CHL (OHL, QMJHL, WHL) players, and is a very high level of hockey which see's players move on to the professional level including the SPHL, ECHL, AHL, and even NHL, such as Joel Ward on the San Jose Sharks. In Furlongs case he advanced to AlpsHL which is a top league that plays in Europe, specifically Austria and Italy. The AlpsHL is a highly skilled league and is most known as a stepping-stone to the higher levels of European professional hockey, and has advanced players to leagues such as the EIHL, the DEL, and the KHL.
The GMHL is proud to see one of its players develop through the ranks, jumping from junior, to university, to professional hockey. We wish Furlong the best of luck at the professional level, and we hope to see him have continued success!