Ravens Forward Advances to AlpsHL
August 15th, 2018 at 10:26AM
August 15th, 2018 3:33PM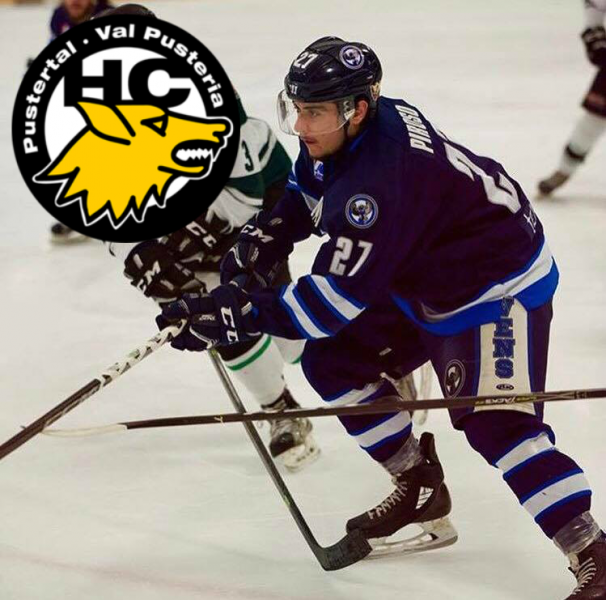 ---
Brunico, Italy- St. George Ravens Forwad, Alessio Piroso, has advanced to professional hockey, signing a contract with HC Pustertal/Val Pusteria out of the AlpsHL! He will be joining another former St. George Raven, goalie Colin Furlong for the 2018-2019 Season.
Piroso joined the St. George Ravens for the 2017-2018 Season, as a high end Italian prospect. Piroso joined a strong Ravens team that was a powerhouse in the South Division last year, finishing with a 38-3-1 record and 77 Points for 1st in their Division and League respectively, finishing 1st Overall in Goals For (404), 3rd Overall in Goals Against (134), and finishing with the longest winning streak last season (22). Piroso made a huge contribution to this Ravens team, where he posted 25 Goals 36 Assists for 61 Points in 35 Regular Season Games Played. Piroso continued his play for the Ravens into the playoffs, helping them to their first Russell Cup Finals appearance since they joined the league in 2013-2014. Piroso's playoff totals came to 18 Goals 13 Assists for 31 Points in 17 Games Played, before the Ravens bowed out to the eventual Champions, the Almaguin Spartans. With this incredible year of hockey under his belt Piroso, was ready to make the jump to the professional level, and has signed a contract with HC Pustertal/Val Pusteria out of the AlpsHL for the 2018-2019 Season.
The AlpsHL is a top league that plays in Europe, specifically Austria and Italy. The AlpsHL is a highly skilled league and is most known as a stepping-stone to the higher levels of European professional hockey, and has advanced players to leagues such as the EIHL, the DEL, and the KHL.
The GMHL is proud to see its players develop and make the jump from junior to professional hockey. We wish Piroso and Furlong the best of luck at the professional level, and we hope to see them have continued success!