Almaguin Spartans Announce New Head Coach for 2019-2020 Season
The Spartans Announced Andre Laperriere will take over the bench for 2019-2020 Season
June 3rd, 2019 at 10:25AM
June 3rd, 2019 3:33PM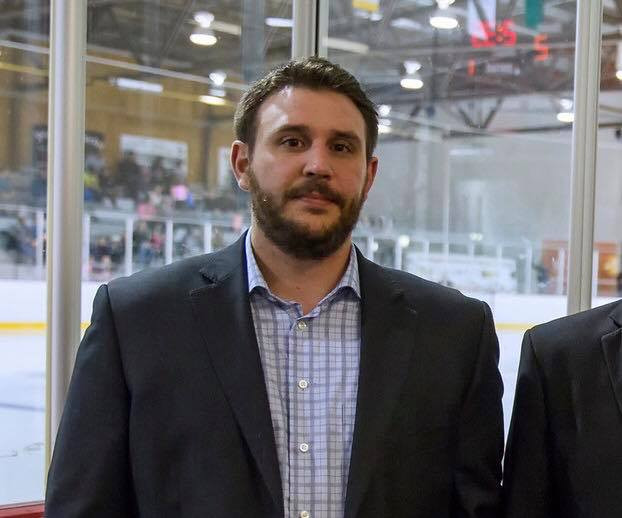 ---
South River, ON- The Almaguin Spartans have announced that Andre Laperriere will be their Head Coach for the upcoming season.
Laperriere brings nine years of coaching experience at the Junior A level to the Spartans. He was an Assistant Coach with Powassan Dragons and Temiscaming Titans before becoming Head Coach for the Temiscaming Titans for 3 seasons, leading them to the GMHL Finals in 2013. Laperriere is also no stranger to the Spartans organization as he as worked with the Spartans the past three seasons as their goaltending coach.
Laperriere takes over for Myles Pepin who has been the Spartans Head Coach for the past four seasons and was an Assistant Coach from the Spartans in their inaugural season. Pepin will still be involved with the organization as he is moving to a Skills Development and Advisory Role. He is making this move as per his request, to allow him to spend more time with his family during the busy hockey season. Under Pepin the Spartans were 108-52-6 and won a 2016 North Division Playoff Championship, 2018 North Division Regular Season Championship and a 2018 Russell Cup Playoff Title.
Spartans General Manager David Forde had this to say about the major move for the organization "Our ownership group is very confident in the hiring Laperriere as our new head coach. He has been with our organization the past three seasons as a goalie coach and we really like all the qualities and skills he brings to our organization in this role. Laperriere has the experience at the junior level, having worked as a head coach, assistant coach and goaltending coach the past nine seasons. He is also very familiar with coaching in a hockey crazed community, that expects to win having worked for our rivals the Temiscaming Titans for three seasons as a head coach and one as an assistant coach. Prior to Laperriere's coaching career he was an elite level goaltender in the NOJHL for the Blind River Beavers and North Bay Skyhawks and had brief stint with Port Huron in the CHL at the professional level. The transition for our organization having a new coach in place will be a very easy transition as Laperriere is very familiar with how the organization operates. Laperriere will hold our players accountable on and off the ice, push them on a daily basis and will create a great team environment for our players and staff."
Andre Laperriere is excited to be named the Spartans Head Coach and said in a statement, "I am really excited to be taking over as head coach of the Spartans. It's a first-class organization that I have been able to be part of the past three seasons and it's the type of organization and community I want to coach for. The fans in Almaguin are amazing and are always 100 percent behind the team. I know I have some big shoes to fill in taking over for Myles and the pressure to be a top contender, but I am confident in my abilities as a coach and I am more then ready for the challenge. I also know that ownership is 100 percent behind me and will provide our staff and players with whatever we need to improve on a daily basis and be a top team in the North Division. With the 11 new players we currently have signed and the 8-9 expected returning players, I think we are going to have a very strong club this season. It will be my job to get the most out of this group and push them on a daily basis to get better. I can't wait to get things started on the ice September 2nd when we open training camp, but I know all of our staff is already hard at work making program improvements and trying to bring in the best players to our program"
The Spartans have also added Brandon Blanche as an Assistant Coach to the bench for the 2019-2020 Season. Now that the Spartans have finalized their personel behind the bench, they will now focus on building their team prior to the start of their training camp in September.