The Courage of Giulio Costa: "Canada a Beautiful Experience"
Costa reflects on his time playing in the GMHL in a Swiss interview
June 10th, 2019 at 9:42AM
June 10th, 2019 3:12PM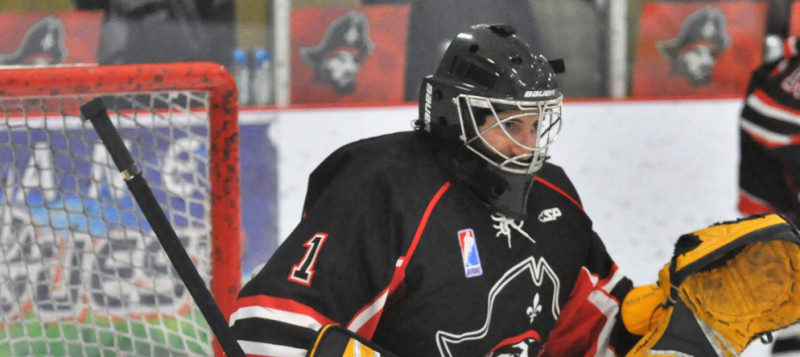 ---
Giubiasco, Switzerland- In 2017, Giulio Costa debated coming to Canada to play junior hockey. Two years later, he returns to Switzerland crowned a Russell Cup Champion and GMHL Playoff MVP. Recently, Costa has sat down with the local press in Switzerland to reflect on his time in Canada and the GMHL. Below is the translated version of his interview:
"The courage of Giulio Costa: «Canada, a beautiful experience.»

Two years away from Ticino to grow and improve, the twenty-two year-old from Giubiasco talks about himself.

The enormous courage and curiosity led him to live an enriching experience in Canada. Giulio Costa - animated by a great passion for hockey from an early age - took his first steps as a goaltender between Bellinzona and Ambrì. Then that desire to try something new conquered him and - in 2017 - the now twenty-two year-old from Giubiasco attempted an adventure in the GMHL, a league in which several young people use as a stepping stone before they make the big jump to professional.

This experience which Giulio Costa cannot be anything but proud of, the satisfactions - both from a personal and team point of view - were not lacking, winning a Russell Cup Championship and GMHL Playoffs MVP.

«Two years ago I was left without a team - Giulio Costa intervened - I trained with GDT Bellinzona but I didn't see any outlet for my career. That's why I started looking around and that's how the chance to move to Canada came up. It was spontaneous, but I wanted to try. "

And was it worth it?
«From a personal point of view, the first season went a bit like this, there were lots of shots, and I would say our team had the most shots against in the entire league my first season. Last summer I decided to continue with the same team, but in December, the GM gave me the opportunity to move to the Ville-Marie Pirates. I accepted and it was worth it: we won the Russell Cup and I was also elected GMHL Playoffs MVP. What a feeling!".

What is the GMHL level like?
«Speaking from my point of view it is a very physical league in which many shots are received, I had an average of almost 40 shots per game over the two seasons. Let's say that, for instance, it is a league with a slightly higher level than the Elite Juniors in Switzerland ».

What do you expect from the future?
«Due to age limits I will not be able to return to GMHL. I'm looking around and I really hope someone calls me in Ticino. I wouldn't mind the idea of being able to try a new experience here, so I can put into practice what I learned in Canada ».

Is there a player you were inspired by when you were young?
"I've always liked David Aebischer's style."

Outside of hockey, what was the Canadian experience?
«Life is much quieter in Canada than in Ticino, there is less stress. It is not difficult to find work as it is here. Everyone lives more relaxed. The big difference compared to Switzerland is that it is very cold there, ranging from -20 to -40 degrees. I often went to training by bicycle, I don't tell you that cold ... »."
Many players have come from Switzerland to the GMHL, and like Costa, enjoyed their time here before moving on to have great professional careers. These players include: Dominic Nyffeler, Pierre Mathez, and Nils Berger, all of whom came to the GMHL before moving on to play in the NLA/NLB. We are happy to hear that Costa enjoyed his time in the GMHL too, and we wish him the best of luck in his future endeavours.