GMHL Alumni Valtteri Mäkiviinikka Signs with the KOOVEE (Mestis)
This will be his first full season of professional hockey
June 21st, 2019 at 8:34AM
June 21st, 2019 1:40PM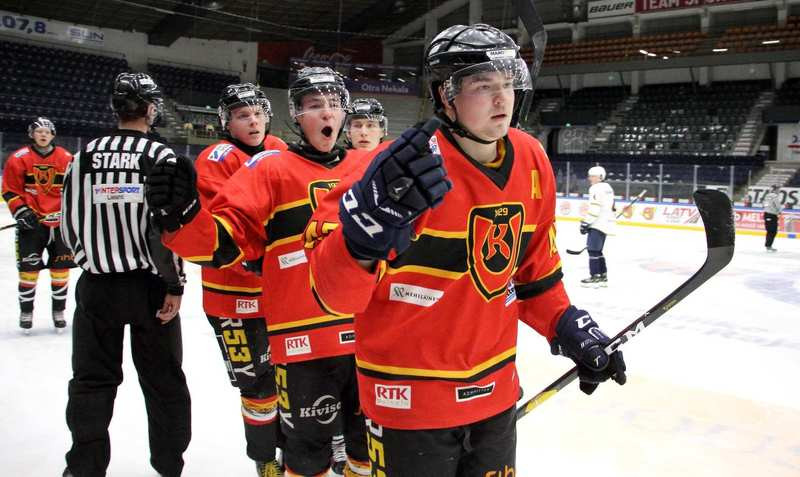 ---
Tampere, Finland- Former GMHL Forward Valtteri Mäkiviinikka signed with the KOOVEE for the 2019-2020 Season. KOOVEE plays out of Mestis, the second tier professional league in Finland.
Mäkiviinikka joined the GMHL in 2016-2017 playing for the Parry Sound Islanders as an 18 year-old. Mäkiviinikka's impact on the Islanders offense was felt immediately, becoming one of the top players in the league. Mäkiviinikka put up 46 Goals 40 Assists for 86 Points in only 38 Regular Season Games and was the Parry Sound Islanders top point scorer for the team. This was an impressive feat, and the league took notice, and Mäkiviinikka was voted to the GMHL All-Star Game, representing Team World. Mäkiviinikka's play in the GMHL was noticed at the higher levels too, and he even received a call up to the SCS Fighting Saints, a professional team that played in the FHL, before being sent back to the Islanders for playoffs. Mäkiviinikka continued his dominant play into the playoffs, leading the Parry Sound Islanders to the Russell Cup Finals, posting 3 Goals 8 Assists for 11 Points in 18 Games Played, before bowing out to the eventual Russell Cup Champions the Niagara Whalers. After an incredible year with the Islanders, Mäkiviinikka decided to return home to Finland to play hockey.
Mäkiviinikka played the past two seasons for KOOVEE's U20 team, playing a total of 80 games for the club between 2017-2019, and scoring a total of 131 Points for the team. This past season though is really where Mäkiviinikka stood out though. Mäkiviinikka was named the Assistant Captain of the U20 team, and was the top scorer for them as well, scoring 75 Points in 44 Games. Continuing a parallel year to the one with the Islanders, Mäkiviinikka lead his team to the Finals, however, this time, he would be crowned a Champion.
Mäkiviinikka incredible year turned a lot of heads, and soon he was signed professionally to KOOVEE. KOOVEE is one of the oldest hockey teams in Europe, it was founded in 1929, and plays in the second tier professional league in Finland, which is called Mestis. Mestis has produced many incredible hockey players, including many NHL players such as Teuvo Teravainen (Carolina Hurricanes), Pekka Rinne (Nashville Predators), and Mikael Granlund (Minnesota Wild). KOOVEE specifically has produced some incredible players, including Vesa Toskala, who enjoyed eight seasons in the NHL, including three for the Toronto Maple Leafs.
The GMHL is proud to see one of its alumni playing at this level of hockey, and we wish Mäkiviinikka all of the best with his new team.