Ivan Skvortsov Announced as the Almaguin Spartans Captain
He will become the fourth Captain in franchise history
July 2nd, 2019 at 9:20AM
July 2nd, 2019 2:23PM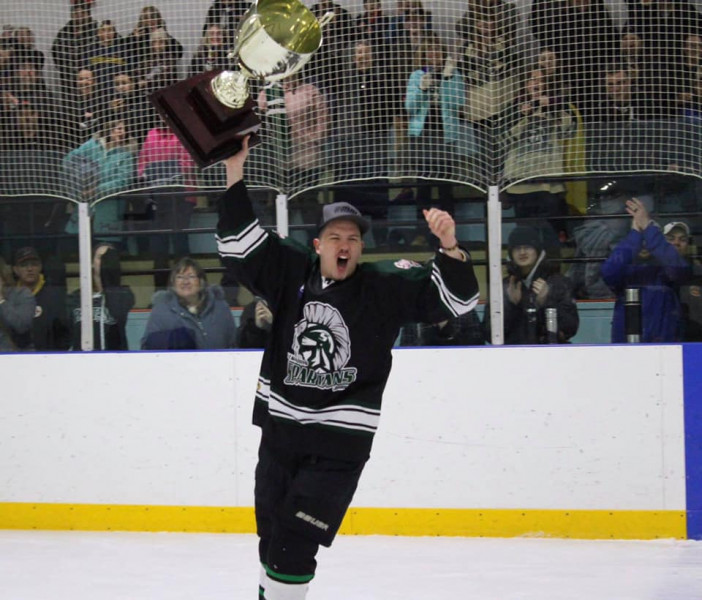 ---
South River, Ontario- The Almaguin Spartans have made two important announcements regarding the 2019-2020 Season. The first announcement is that three-year veteran Ivan Skvortsov will return to the Spartans for the 2019-2020 Season, and the second is that he will be the fourth Captain in franchise history.
Skvortsov has played three seasons in the GMHL, two of which came with the Almaguin Spartans between 2017-2019. Over this period of time, Skvortsov has posted 43 Points in 84 Games Played, and won the Russell Cup Championship in 2018 with the team. The forward is known for his two-way game, where he can shut down opposing teams, but also chip in offensively too.
Spartans General Manager David Forde is extremely happy to have Skvortsov back, and is looking forward to him taking on the leadership role for the Spartans, "Our organization is extremely happy to have Ivan back this season. Last season, he was our best defensive forward, while also putting up 35 Points. I think this season he can make a big jump offensively based on what I've seen him do over the past three years in the GMHL. Ivan is a great skater, has a high hockey IQ, is very coachable and has a team first attitude. Ivan is the type of player that always wants to improve himself and the team. These are qualities that our staff wants in our leader. Someone that leads by example and will help his teammates improve as well. Ivan is a huge asset for our club on the ice, but I feel his contributions and attitude off the ice are even more influential on our team. He also knows what it takes to win and be a good captain, having played with Bryan Austin during our Russell Cup winning year and Deivids Tempelmanis last season. Both of those players were great captains, for Ivan to learn from. Our entire staff is one hundred percent behind Ivan in being our captain and we know he will be a great representative for our organization and the Almaguin community."
Skortsov was happy to return to the team, and honoured that he was chosen to take over this leadership role, "I'm really happy to be coming back to the Spartans this year. I have loved my time with the team, the community and my billet family over the past two seasons. I've had a lot of great experiences here and have become friends with a lot of great people. I'm really looking forward to coming back and can't wait to get the season started and start working towards winning another Russell Cup. Being named the Captain of the Spartans is a huge honour for me. I know it's a big responsibility on and off the ice, but I think I'm ready for it. I've played with two great captains in Bryan Austin and Deivids Tempelmanis over my past two seasons with the Spartans and they have taught me a lot about being a good leader. I also think Myles and Gary, have been very good leaders and coaches for me to learn from during my time with the Spartans. They have all taught me about being a team first guy, everything we do is for the team and our team is a family."