Former GMHL Goalie Takes Part in St. Louis Blues Prospect Camp
Goalie Andrew Best was invited to the Blues Camp for the second year in a row
July 4th, 2019 at 9:58AM
July 4th, 2019 5:02PM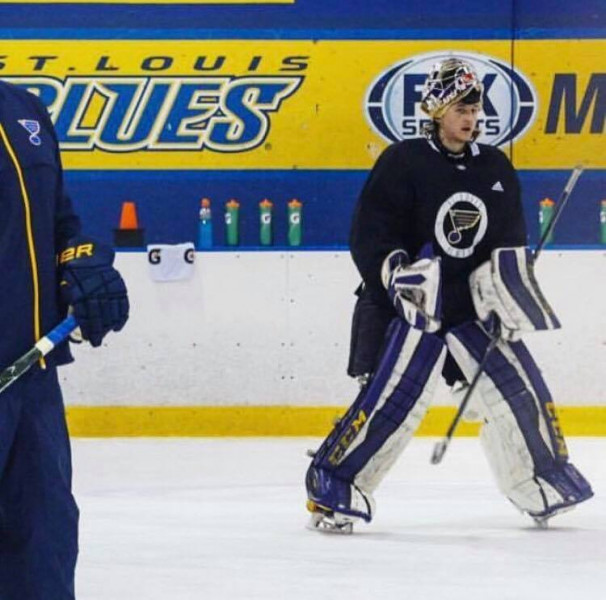 ---
St. Louis, Missouri- On June 12th, the St. Louis Blues defeated the Boston Bruins 4-1 in Game Seven of the Stanley Cup Finals to bring home their first Stanley Cup in franchise history. Three weeks later, they held their Prospects Camp, where players within their development system and invitees take part in three days of practices and scrimmages. One of the invitees to the camp was former GMHL Goalie Andrew Best, who would be participating in the Blues Prospect Camp for the second year in a row.
Best, who is a native of Barrie, Ontario, played in the GMHL for one season in 2014-2015. He was the starting goalie for the Cambridge Bears, and played thirty-three games for the club. The Bears weren't the strongest club that season, however, Best was a bright spot in their season, and he was able to steal some games for the Bears, and was the first star in many of the games that they won. His play in the GMHL received attention from higher levels of hockey, and in the next season he committed to McKendree University, where he became the starting goalie for the next four seasons. In the summer of 2018, Best received an invite to the St. Louis Blues Prospect Camp, sharing the net with the Blues top goalie prospects, including Jordan Binnington. Obviously Best made some sort of impact because he was invited back to the St. Louis Blues Prospect Camp this year, where he spent three days taking shots from some of the Blues top prospects.
Andrew Best now joins three other GMHL alumni who have been invited to NHL Prospects Camps, including Darren Archibald (Vancouver Canucks), Nikita Jevpalovs (San Jose Sharks), and Tyler Hore (Chicago Blackhawks). Being invited to train with some of the best players in the world is always an honour, and the GMHL is proud to see one of its alumni participating in this camp.
We hope that Best enjoyed his experience at the Blues Prospect Camps, and that he will be able to use it in the future in his career.