Former Rattlers Forward Marcus Bergman Receives Interest from SHL Teams
He has played the past few seasons in Allsvenskan with VIK Västerås HK
July 11th, 2019 at 9:29AM
July 11th, 2019 2:41PM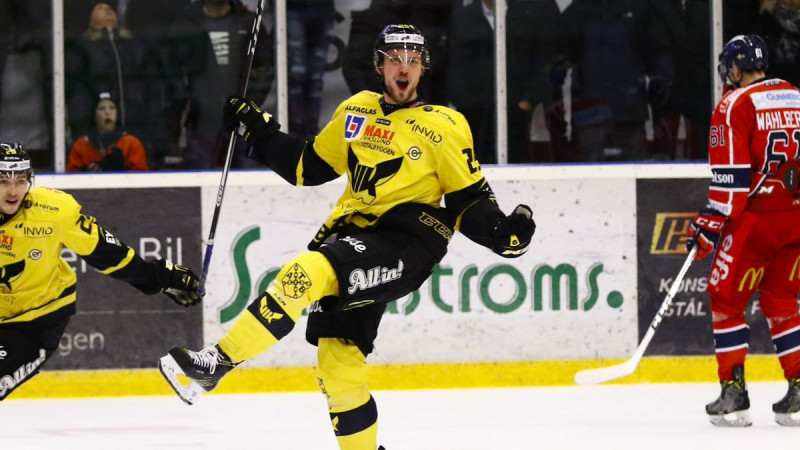 ---
Västerås, Sweden- Marcus Bergman is going into the second year of his two-year contract with Allsvenskan's VIK Västerås HK. However, after an impressive season with the team where he was fourth in team scoring, he has received interest from some SHL teams for the 2019-2020 Season.
Marcus Bergman came to the GMHL in the 2012-2013 Season playing for the Bradford Rattlers. The Rattlers would go on to have a historic season, going undefeated with a record 42-0-0. The Rattlers are one of four junior franchises to have an undefeated record in the Regular Season. Bergman played a huge role for the Rattlers in this historic season and he was known for his speed, skill, and power on the ice. The 6'2 205 lb power forward was an offensive force on the Rattlers first line posting 21 Goals and 17 Assists for 38 Points in 18 Regular Season Games. In the Russell Cup playoffs he kept up his production posting 15 Goals and 23 Assists for 38 Points in 15 playoff games. The Rattlers would go on to cap off an incredible season with their third Russell Cup Championship in franchise history.
This incredible year for the Rattlers brought a lot of attention to their players, and many of them advanced to various levels of hockey after this year. Specifically, Bergman received the attention of a lot of professional teams in Sweden, but soon ended up signing in HockeyEttan (Division 1), the third tier of professional hockey in Sweden, for IFK Tumba. After a few seasons of playing in HockeyEttan, Bergman made another jump up in his career signing with VIK Västerås HK who play out of Sweden's second tier professional league, called Allsvenskan. Bergman has been with the club for three seasons, and has posted 37 Goals 33 Assists for 70 Points in 124 Games Played. This season, Bergman posted 13 Goals 18 Assists for 31 Points in 48 Games Played, and was fourth in team scoring. His team was also close to promotion into the SHL this year, however just fell short in the playoffs. Bergman's play over the past three seasons with VIK Västerås HK has garnered a lot of interest from SHL teams.
One of the teams that has been rumoured to have interest in Bergman is HV71. In an interview with the Swedish media Bergman addressed the rumours about signing in the SHL, "There are always rumours this time of year. I have a contract with VIK at the moment, and my agent handles the rest. But I am ready to play here [VIK] and have my contract left...But that's the way it is, nothing is clear for the upcoming season... there is interest [from the SHL], but I haven't written anywhere. Someone has heard that people have talked [with me], but as I said, there are many rumours at this time. I just try to take it as it comes and talk through if there is something interesting."
Allsvenskan and the SHL are the two top leagues in Sweden and some of the top leagues in all of Europe. It has seen high-end players, such as NHL players Rasmus Dahlin, Anze Kopitar, David Pastrnak, and William Karlsson play within the two leagues. We are proud to see one of our alumni playing at this high level of hockey and garnering interest at even higher levels. We wish Marcus Bergman the best of luck this season, whether it is in Allsvenskan with VIK Västerås HK, or with a new team in the SHL.