Former St. George Raven to NCAA DI
His journey from GMHL to NCAA DI
January 18th, 2019 at 5:17PM
January 18th, 2019 11:20PM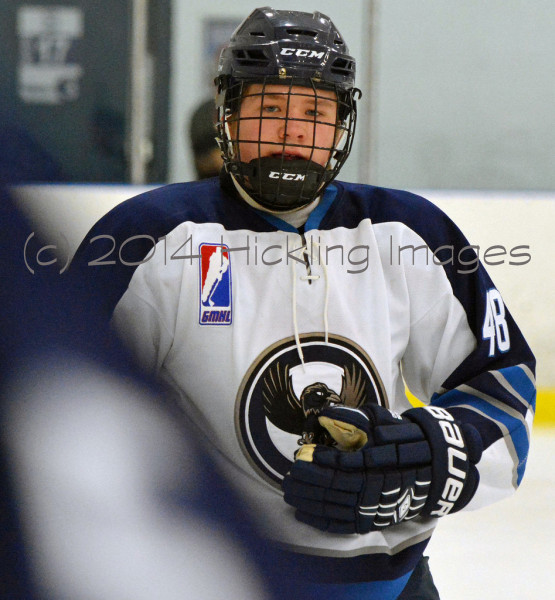 ---
Springfield, Massachusetts- Former GMHL and St. George Ravens player Blake Bennett is heading to American International College, a NCAA DI program, for the 2019-2020 season!
Blake Bennett came to the GMHL in the 2014-2015 season, and played for the St. George Ravens when they were still in Halton. The St. George Ravens have always been known as a team that brings in talent and skill to their program, and Bennett was no exception. Bennett was a young prospect when he came to the Ravens, and was a sixteen year-old rookie. Although he was young at the time, Bennett was a great piece on a strong team. Bennett finished the season with 16 Goals and 23 Assists for 39 Points in 30 Regular Season Games Played. His play continued into the playoffs, where the Ravens enjoyed a deep run into the semi-finals. He had 1 Goal 2 Assists for 3 Points in 16 Playoff Games, and the Ravens made it all the way to the semi-finals before bowing out to the eventual Russell Cup Champions, the Temiscaming Titans in Game Seven. Although Bennett was only sixteen years old at the time, he made an impact for the Ravens, and the higher levels of hockey noticed this. Eventually Bennett would move on to the North American Hockey League (NAHL), which is considered one of the top junior leagues alongside the USHL and BCHL.
Bennett has spent this season with the Corpus Christi Ice Rays of the NAHL. Bennett has 16 Goals and 23 Assists for 39 Points in 35 Regular Season Games Played with half of the season still left to play. Universities started to take notice of Bennett in this tremendous year, and eventually Bennett committed to American International College for the 2019-2020 season, where he will join another GMHL Alumni, Matus Spodniak, who played for the South Muskoka Shield. Hockey seems to come natural to the Bennett family, as Blake's brother, Shane, also advanced to a high level of hockey after the GMHL, moving on to NCAA DIII and eventually the SPHL.
NCAA DI hockey is the highest level of University hockey in the world, and has seen some of the most skilled players play in it's league, such as NHL players Jack Eichel, Johnny Gaudreau, Jonathan Toews, and many more. It's great to see a former GMHL player reach this level of hockey, and that the GMHL and the St. George Ravens was apart of Bennett's development and path to the NAHL and NCAA DI. We wish Bennett and American International College the best of luck next season!