Civics Nadeau Committed to Niagara University
New Tecumseth Civics forward Riley Nadeau has committed to Niagara University
July 22nd, 2020 at 10:14AM
July 22nd, 2020 3:31PM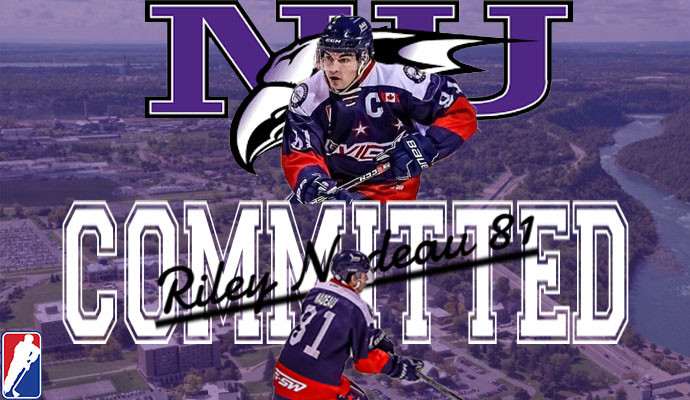 ---
The GMHL congratulates Riley Nadeau on his commitment to play Hockey at Niagara University this upcoming season.
Per. New Tecumseth Civics:
The Civics are proud to announce that last year's captain Riley Nadeau has officially announced his commitment to play college hockey at Niagara University for the upcoming 2020-2021 season.

Nadeau, the Espanola, Ontario native who was born in Jackson, Mississippi, authored the greatest single season in Civics history. With the first 100 point season in the team's years, Nadeau set franchise records in Points (100), Assists (65) and became the Civics all-time scoring leader with a career total of 164 points in 82 games and a career average of 2 Points per game.

For the first time in league history a single player won the Top Forward Award and the Most Sportsmanlike award when Nadeau took home both in his record setting season. He was also named the MVP and the Forward of the Year at the Civics team awards.

Nadeau, was extremely thankful for his time with the Civics, "I had a lot of fun playing in New Tec and under Coach Dennis, he's a smart coach and a good role model. He allowed me to play my game and gave me a lot of freedom and trust with being in charge of the room and leading the team he gave me the chance to improve myself not only as a hockey player and a leader but as a person as well. I would also like to thank the whole coaching and management staff because they are a very approachable bunch of people who are easy going and also are able to maintain that respect from the boys. I think New Tec is a great organization with great people and a lot of good boys to have lifelong friendships with. I'm truly great fun for my time there and hope the boys can keep moving forward in the coming years."

Nadeau is joining a Niagara University Purple Eagles team that are playing in the 1st Division of the American Collegiate Hockey Association (ACHA l) and are fresh off a 2019-2020 NECHL Championship and a National Tournament appearance.

Niagara Head Coach Tom Mooradian was very excited about Nadeau's decision to join him at the Lewiston based university,
"We're incredibly happy to have added Riley to our roster, earlier this week. I spent a substantial amount of time watching him play in Blind River and New Tecumseth throughout the 2018-2020 timeframe. He and I have built up a pretty strong communicative relationship over the past 2 years and I think that played a major role in his decision to pursue Niagara.

From a hockey perspective, He's obviously a very gifted offensive talent. However, his drive and approach to the game are the 2 things that have consistently stood out over the past 2 seasons. He always seems to find himself in a primary or secondary leadership role with the teams he plays on and that will undoubtedly translate very well when he begins to compete on the college circuit.

Statistical success, particularly in junior hockey, garners a substantial amount of notoriety. We're just incredibly pleased to be adding a highly driven individual who wants to compete, game-in and game-out. He proved this past year that he's ready to handle a top six role right out of the gate and be the type of player we call on to generate offense when we need it the most."

Civics GM Jordan Richardson was ecstatic for Nadeau (who billeted with Richardson's parents this past season, "Nads is one of the best young men we have had in New Tec. It was a pleasure to watch him grow as a player and leader on and off the ice over the last 3 years, and I know he is ready to make the jump to the next level. His commitment to self-improvement when it comes to his skill set and his mind set is mature beyond his years. He has expressed his interest in playing college hockey for a few seasons now and through his hard work he has made it a reality, which should come to no surprise to the people that know Riley. Next for him will be his continued work in becoming a stronger player in order to establish himself as a player to be counted on at NU. I wish him the best of luck and say that getting to know him and his family has been one of the true pleasures in my time in junior hockey."

Watching a captain leave is never easy, but seeing him advance and knowing he will be successful is something truly special. Nads, all of us in Civic Nation thank you for allowing us to be a part of something special, you will always have a home in New Tecumseth with Civic Nation.