GMHL Three Stars of the Week (Dec 12 - Dec 18)
Eriksson, Golovatchev, Tougas earn the three stars of the week honours
December 20th, 2022 at 10:05AM
December 20th, 2022 4:07PM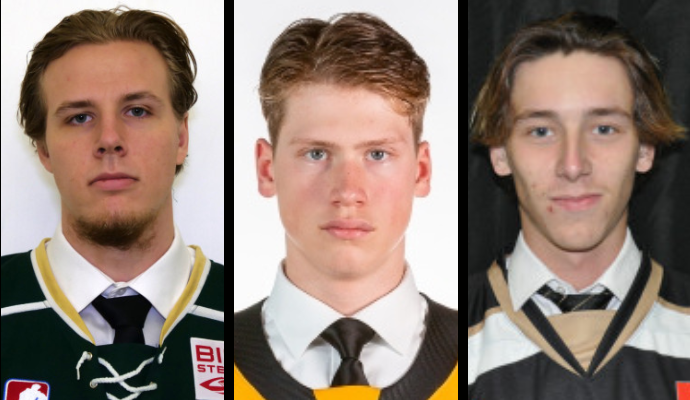 ---
Last week in the GMHL, saw its players perform at a top level once again. This time, players had the opportunity to display their talents at the GMHL showcase. They provided exciting games that kept fans up on their seats and games that demonstrated the top end talent that is in our league. Every week, multiple players would be deserving of a star of the week honours. However, this weeks' three stars go to Bradford Rattlers player Jesper Eriksson, South Muskoka Shield Player Dennis Golovatchev, and Bancroft Rockhounds player Felix Tougas.
1st Star: Jesper Eriksson
Jesper scored an outstanding 8 goals and 6 assists for 14 points in 3 games this week. This brings his season totals to 23 goals, 31 assists for 54 points in 25 games.
2nd Star: Dennis Golovatchev
Dennis scored 6 goals and 5 assists for 11 points in 3 games this week bringing his season totals to 34 goals, 41 assists for 75 points in 28 games in the GMHL. He now has 16 goals, 14 assists for 30 points in 9 games with the Shield.
3rd Star: Felix Tougas
Felix scored 6 goals along with 3 assists for 9 points in 3 games this week. This brings his season total to 16 goals and 13 assists for 29 points in 25 games.
Honourable mentions for the week go to Jordan Briere, Braedon Mitchell, Jesse Swanson, Tomas Coupek, Stepan Levitskiy, Anthony Tropea, and Samuel Senft.
Ville-Marie Pirates Jordan Briere 4G 5A 9P in 3GP
South Muskoka Shield Braedon Mitchell 3G 6A 9P in 3GP
Edson Eagles Jesse Swanson 6G 2A 8P in 2GP
Knights of Meaford Tomas Coupek 2G 5A 7P in 2GP
Bradford Rattlers Stepan Levitskiy 3G 5A 8P in 3GP
Niagara Predators Anthony Tropea 7G 4A 11P in 4GP
Windsor Aces Samuel Senft 5G 3A 8P in 4GP