GMHL Three Stars of the Week (Jan 2 - Jan 8)
Krupa, Fritz, Levitskiy earn the first three stars of 2023
January 9th, 2023 at 8:58PM
February 9th, 2023 4:30PM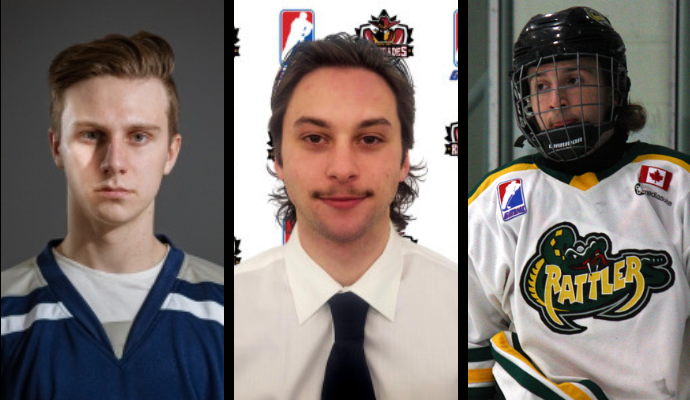 ---
Last week in the GMHL, saw its players perform at a top level one again. They provided exciting games that demonstrated the top talent that is in our league. Multiple players have played well enough to deserve a star of the week honours. However, this weeks' three stars go to Jaxon Krupa of the Kitimat Saax in the GMHL West Division, Ryan Fritz of the North York Renegades in the GMHL South Division, and Stepan Levitskiy of the Bradford Rattlers in the GMHL North Division.
1st Star:
Jaxon was dominate for the Saax this week, as he scored 9 goals and 3 assists for 12 points in 3 games. This brings his season totals to 26 goals and 17 assists for 43 points in 10 games.
2nd Star:
Ryan played in 2 games this week totalling 3 goals and 6 assists for 9 points. This brings him five points away of the 100 point mark with 37 goals and 58 assists on the season.
3rd Star:
Stepan helped the Rattlers win their 2 games this week with 2 goals and 5 assists for 7 points. This brings his season totals at 35 goals and 34 assists for 69 points.
Honourable mentions go to Jordan Riviere of the Ville-Marie Pirates who posted 5 goals and 4 assists for 9 points in 3 games. As well as Arvid Malm of the Bradford Rattlers with 4 goals and 2 assists in 2 games.