High Prairie Red Wings Win GMHL West Championship
May 25th, 2021 at 12:44PM
May 25th, 2021 5:48PM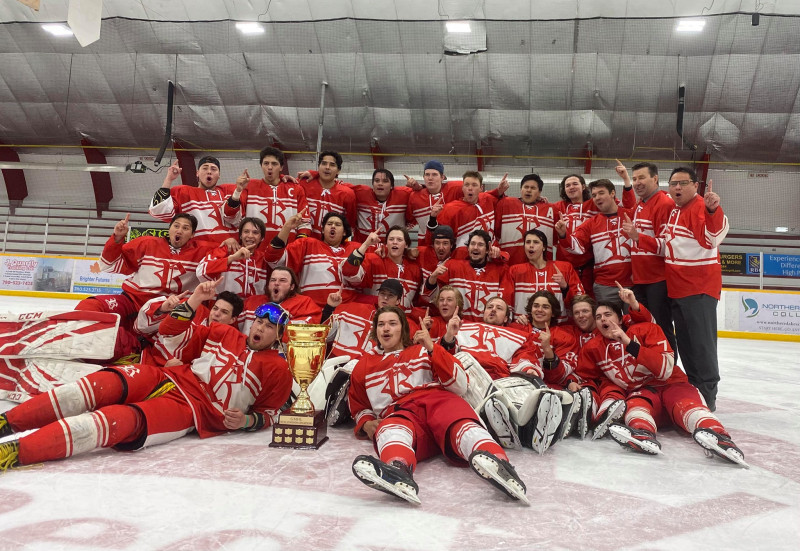 ---
The High Prairie Red Wings are GMHL West champions!
The Red Wings capped off a dominant season on Monday night with a four-game sweep of the Slave Lake Icedogs.
Lead by Mikal Chalifoux's 81-point season, the Red Wings were able to sweep both rounds of the playoffs, first against the Fox Creek Ice Kings, and then the Slave Lake Icedogs.
After finishing in second place last year behind the Icedogs, the Red Wings came back hungry and bulked up in the offseason to build a team ready for a deep playoff run. Though there were many ups and downs this season, including a Covid pause, and a three-game losing streak to start the season, High Prairie was resilient and able to battle any adversity that came their way.
The GMHL West was able to play under strict Covid protocols put in place by the Alberta government. With no positive tests throughout the entire playoffs, all four GMHL West teams were safe to play with no interruptions or breaks, leading to an exciting 2021 playoffs.
The GMHL would like to congratulate the High Prairie Red Wings players, staff, management, and fans on an incredible season! If you missed any playoff action and would like to watch, click the following link to go directly to the playoff games on GMHL TV: http://gmhl.tv/play-off-season-videos