North Division Finals Preview: Temiscaming Titans (1) Vs. Bradford Rattlers (4)
The North Division of the Greater Metro Junior 'A' Hockey League, will kick off the final series
March 7th, 2020 at 1:19PM
March 7th, 2020 7:28PM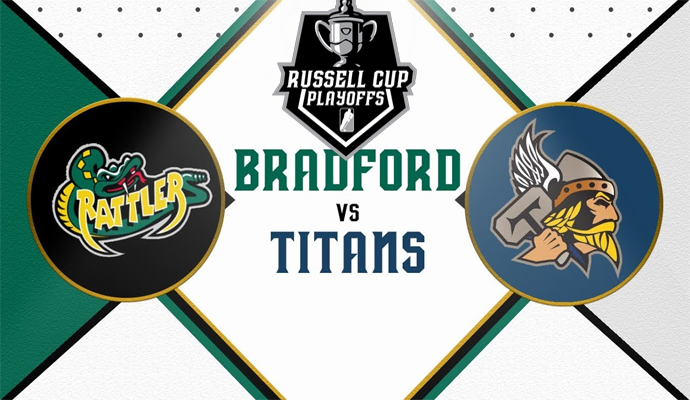 ---
The North Division of the Greater Metro Junior 'A' Hockey League, will kick off the final series 7:30pm Saturday night at Le Centre in Temiscaming when the Titans host the Bradford Rattlers to start their best of 7 series.
EARLIER MEETINGS:
During the 2019-20 campaign, Temiscaming and Bradford met on four occasions with each team picking up pair of victories, 1 each at home and on the road.
One of those victories came in overtime as the Rattlers collected 5 points in the 4 matchups with the Titans compared to the 4 points collected by Temiscaming.
In all, the Rattlers outscored the Titans 27-19 with two of their contests being decided by 2 goals or less!
SCORING:
Leading Temiscaming offensively this season was the high scoring trio of North Division MVP Marc-Antoine Turcotte (151), Yannick Ethier (118), and Zacharie Maheu (113) who were only the second trio of teammates (17-18 Ravens)to each reach the 100 point plateau.
Additionally Turcotte was the league leader in the assists category with 104, while Ethier tied for the league lead in goals with 57.
After the trio of forwards the league's top defenseman Aleck Forcier had 60 points from the back end for the Titans squad.
In Bradford, Captain Mike Dyck has been everything the Rattlers could have hoped for leading the team in Goals (36), Assists (50), and Points (86), Power play Goals (13), and Game Winning Goals (6) as the veteran forward has led an impressive Rattlers group offensively.
NHL Central Scouting prospect Georgii Larshin established himself as a gifted playmaker this season with 46 assists and trailing Dyck for second in team scoring while Brayden Morris once again showed his elite goal scoring ability scoring 29 goals in 36 games.
BETWEEN THE PIPES:
In net for the Titans Eloi Bouchard has seen the most work during the playoffs for the Titans however after allowing 5 goals in game 2 and being replaced by North Division Goalie of the Year Bobby Cloutier, the Titans went to Cloutier for the series clinching game 3 and he responded well securing the win.
Cloutier and Bouchard both appeared in 22 games during the regular season and both finished with a .885 Save Percentage. Bouchard had the advantage in wins (16 to 14) and GAA (4.32 to 4.79) but Cloutier had the edge in total saves made (723 to 676) and shutouts (1 to 0).
Meanwhile, in Bradford, Trevor Babin has stolen the show in the playoffs so far. Winning all 5 games for the Rattlers including 2 shutouts, sporting the best GAA and Save Percentage among all playoff goalies the 2018-2019 Goalie of the Year is the backbone of the Rattlers and is the key in them raising their first banner since 2013.
WHAT'S NEXT:
The winner of this series will move on to the Russell Cup Finals and play either the St. George Ravens or the Niagara Whalers for the GMHL Championship.
NUMBERS GAME:
Temiscaming finished first in the North Division with a record of 33-8-1 while the Rattlers were 4th in the division at 27-13-2. On the year, the Titans scored 298 times to pace the North while the Rattlers notched 230 markers. Turcotte was the GMHL's point's leader with 151 which was the second single season total in GMHL history. The Rattlers Dyck was second in the Division in both Power play goals and Game Winning goals with 13 and 6 while his 86 points were a top 10 effort in the history of the storied Bradford Franchise. Titans defenseman Forcier led all North division defenseman in scoring with 60 points. Goaltender's Eloi Bouchard and Bobby Cloutier each finished with more total saves than Trevor Babin. Special teams saw Temiscaming finish the power play at 17.4% with Bradford close behind at 17.2%. On the penalty kill, the Rattlers were ahead at 88.2% and the Titans at 87.2%.
ONLINE VIEWING: All GMHL playoff games can be watched online for free, via GMHL.tv
North Division Finals
No. 1 Temiscaming Titans vs. No. 4 Bradford Rattlers
Best-of-seven series
Game #1 Saturday March 7th 7:30pm (Le Centre)
Game #2 Sunday March 8th 4:00pm (Le Centre)
Game #3 Wednesday March 11th 8:00pm (BWG Leisure Centre)
Game #4 Thursday March 12th 7:30pm (BWG Leisure Centre)
Game #5 – Friday March 13th 8:00pm (Le Centre)*
Game #6 – Sunday March 15th 7:30pm (BWG Leisure Centre)*
Game #7 – Tuesday March 17th 8:00pm (Le Centre)*
*If Necessary