Prospects Profile: Spartan's Stepan Skvirsky
The GMHL will be profiling one prospect per month for the duration of the season to highlight a 2001
November 29th, 2019 at 9:53AM
November 29th, 2019 4:22PM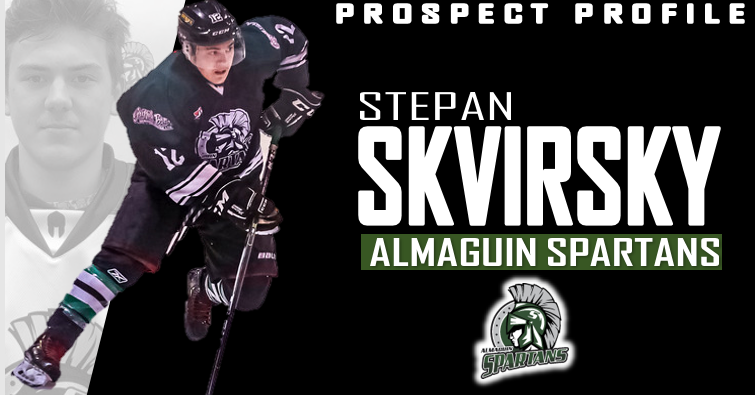 ---
The GMHL will be profiling one prospect per month for the duration of the season to highlight a 2001-2003 born player who are using this season to develop into a high quality prospect for their future hockey careers. This month we will be focusing on Spartans forward Stepan Skvirsky.
Skvirsky, the 2001 born Moscow, Russia native, is currently pacing all U19 players in the league in scoring with 34 Points (15G, 19A) in 20 games this season. He currently sits second on an Almaguin team that has won 4 of their last 5 games. Skvirsky has also contributed on the power play in his first season of junior hockey.
Skvirsky is enjoying his first season of junior hockey in Canada, "I am really enjoying my experience playing and living in Canada. The Spartans organization has been great with me from day one and have helped me with my adjustment to playing and living in Canada. The staff and my veteran teammates have been great in supporting me and teaching me new things, despite me not being able to speak a lot of English. With their help though, my English is getting better every day. I have enjoyed my GMHL experience so far and I think the league has a high level of competition in it. I think the Spartans and my experience here is going to really help me advance to the next level."
Prior to joining the Spartans this season Skvirsky played 2 seasons of U18 hockey for Team FSO Moskva U18, in his last season scoring 12 Points in 17 games. This was after playing his minor hockey for Snazhnye Barsy Moscow.
Spartans GM David Forde had high praise for his young forward, "From day one Skvirsky has been one of our hardest working players. He comes to the rink every day with a smile on his face and is ready to give you everything he has. He has been a dominate player for us offensively and contributes on a nightly basis. He is a tremendous skater, moves the puck well and plays physical despite his small stature. Having watched every team play, I think Skvirsky is one of the top prospects in the league 2001 or younger. He is a determined young man, who I think will without question advance to college or professional in hockey in the near future".
Skvirsky is one of 53 Russian born players in the league this season and is second amongst all of them in scoring this season. The GMHL has long been a hot bed for Russian prospects to develop before going on to play at the Major Junior, College, and Professional levels of hockey.