Rivalry Week: Red Wings Remain Undefeated
A 5 point night for Keegan Ferguson helps the Red Wings to a 8-5 win
November 14th, 2022 at 11:12AM
November 14th, 2022 5:20PM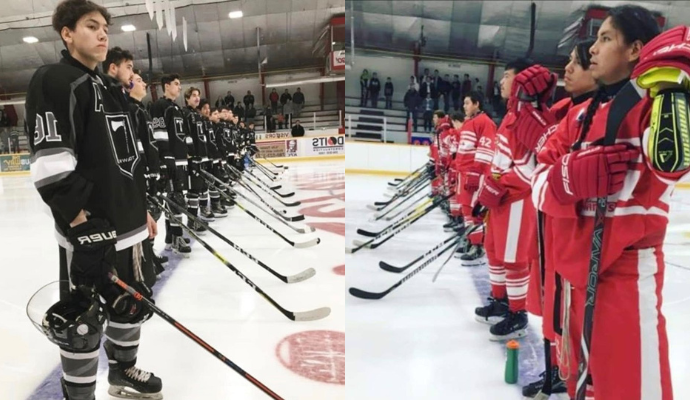 ---
Friday November 11th saw the West Division first place High Prairie Red Wings battle the second place Northern Alberta Tomahawks in High Prairie.
The first period saw both teams come out with two goals. Ethan Alook-Ferguson scored first for the Red Wings assisted by Nolan Noskey and Keegan Ferguson. Michael Beaverbones replied for the Tomahawks with a goal assisted by Brennan Rosychuk and Bryant Joseph. Brennan Rosychuk got a goal of his own on the power play to give his team the lead as he was assisted by Michael Beaverbones and Deondre Mccarthy. Late in the period the Red Wings tied it up with a goal by Ethan Many Bears assisted by Keegan Ferguson and Dayton Shantz.
The second period saw the Red Wings take over the game as they scored three unanswered goals. Keegan Ferguson, Maven McMaster and Brayden Auger scored to make it 5-2. Michael Beaverbones scored late in the period to bring the Tomahawks within two goals.
The third period saw the Red Wings score three goals in one minute and six seconds as Ethan Many Bears, Dayton Shantz and Maven McMaster scored to make it 8-3. Late in the third, the Tomahawks tried to mount a comeback with goals by Tyrell Shott and Bryant Joseph to make it 8-5.
Shots were 16-18, 14-16, and 11-14 for a total of 41-48 in favour of the High Prairie Red Wings.
The three stars of the game went to:
#1 Keegan Ferguson 1G & 4A
#2 Ethan Many Bears 2G & 2A
#3 Dayton Shantz 1G 3A
After the weekend, the High Prairie Red Wings remain undefeated with 17 wins and 34 points for first in the West Division and the Northern Alberta Tomahawks remain second in the West Division with a 11-4-1 for 23 points in the standings.