2019-20 GMHL Schedule Unveiled
The GMHL has unveiled its full schedule for the 2019-2020 Season
August 8th, 2019 at 2:19PM
August 8th, 2019 7:39PM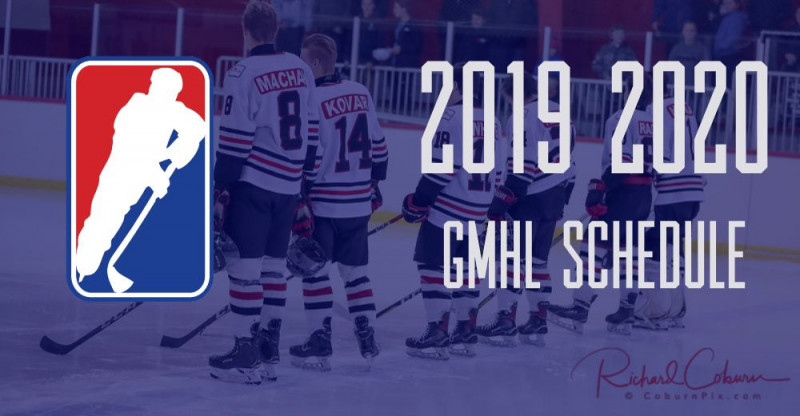 ---
Bradford, Ontario- The GMHL has released the north and south divisions complete schedule of games for the 2019-2020 regular season, the league's 14th year of operation.
The season, with 21 north and south teams playing a total of 882 games, begins on Thursday, September 5, 2019 and concludes on Sunday, February 16, 2020.
Some highlights of the 2019-20 schedule:
• The 2019-20 regular season opens with one game on Sept. 5, where the New Tecumseth Civics will take on the Bradford Bulls
• On Sept. 7, the Ville-Marie Pirates begin defense of their 2019 Russell Cup Championship with a home opener against the West Nipissing Lynx.
• The South Division Champion St. George Ravens open their season on Sept. 13 as the Kingsville Kings visits St. George.
• Expansion team, Bancroft Rockhounds play their first game in the league Sunday, Sept. 8th where they host the Ottawa Sharpshooters.
• The Battle of Bradford will return to begin the year for the first time since 2014-2015 with the Bradford Rattlers and Bradford Bulls playing a home and home on Sept. 8th at the BWG Leisure Centre and Sept. 11th at Bob Fallis Arena.
• The South Muskoka Shield, members of the GMHL since its inaugural season in 2006, will skate in their 550th regular-season game on Sep. 20 when they host Temiscaming.
• The Christmas Break will begin Dec. 23 following a two game set on Dec. 22 where the Kingsville Kings host the Windsor Aces and the St. George Ravens host their division rivals the Niagara Whalers.
• The GMHL returns from the break on Jan. 3, 2020 with a double feature to start of the New Year, where the West Nipissing Lynx host the South Muskoka Shield, and the Niagara Whalers host the London Lakers.
• The 2020 GMHL All-Star Game will take place Saturday, Jan. 11, and will be hosted by the Almaguin Spartans.
• The 2020 Russell Cup Playoffs will get underway the week of Feb. 17.
GMHL games will be streamed live on GMHL TV.
The Greater Metro Hockey League was officially born in 2006 with the vision to improve the current standard of player development at the Junior A level in the world's greatest hockey market in Toronto. To facilitate the growth of this vision, the league had two clearly articulated goals: to increase the international flavor of junior hockey in Canada as well as locate and establish teams in the cities and towns passionate about hosting this new brand of junior hockey. The GMHL continues to serve as a top development league for international and local players, and has had 889 players advance to higher levels of hockey. This will be the GMHL's fourteenth season.