Tottenham Steam Under New Ownership
The New Ownership Group will take over for the 2019-2020 Season
May 6th, 2019 at 2:34PM
May 13th, 2019 2:55PM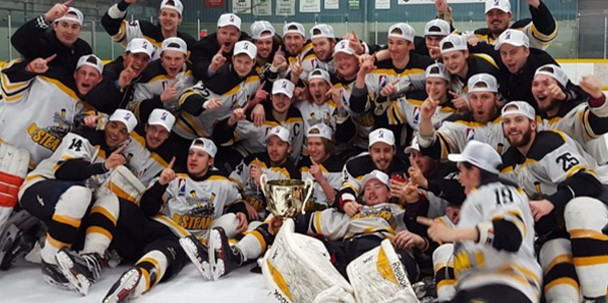 ---
Tottenham Ontario - The GMHL President Bob Russell is pleased to announce that the Tottenham Steam Junior A Hockey Club will be staying in the community of Tottenham after a transfer of ownership last month.
Matthew Hamilton will stay on with the team with a bigger role this year, serving as its General Manager and Head Coach. When asked about taking the helm of the Tottenham Steam organization, Matt said: "Tottenham is a great hockey community I believe that we have the right people in place to continue building the team. I have got many great ideas to build on the relationships we have established over the past few years."
Matt is a native of Thunder Bay, Ontario and has been the Head Coach of the Steam for the last 2 seasons. Prior to joining the Steam, Matt attended Utah State University, where he played for five seasons scoring 280 points. He made his professional debut for VIRKIÄ in the II-divisioona of Finland. He then played for the Berkshire Battalion of the FHL before accepting the positon of Head Coach with the Bradford Rattlers.
Tottenham will be entering their sixth season in the GMHL. The Steam were a powerhouse their first two seasons in the league, winning back-to-back Regular Season titles and a Russell Cup Championship. During this time, the Steam averaged 300+ fans per night and had one of the largest sponsorship support in the league. The marchee location is expected to return to its former glory with a fresh ownership group.
For more information on the Steam, please visit our website at www.steamhockey.ca