Former Rattlers Goalie Signs Two-Year Deal with EHC Kloten (NLB)
This will be his first season with EHC Kloten and ninth in the NLB
June 7th, 2019 at 9:03AM
June 7th, 2019 2:31PM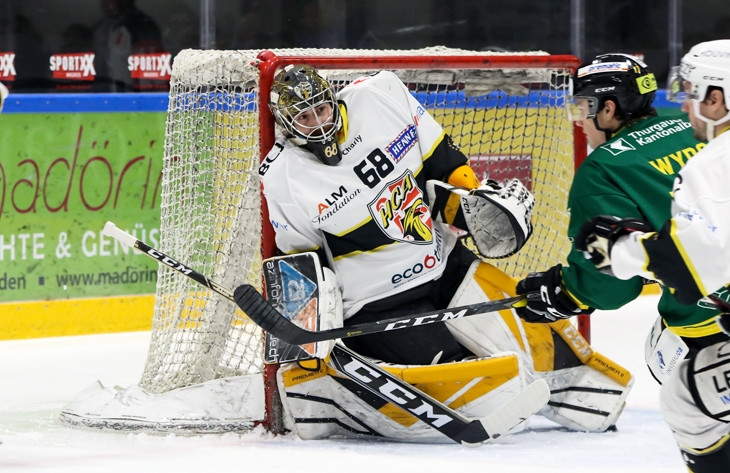 ---
Kloten, Switzerland- Former Bradford Rattlers Goalie, Dominic Nyffeler, has signed a two-year deal with NLB team EHC Kloten.
Nyffeler joined the GMHL for the Bradford Rattlers in 2013-2014, and immediately became their starting goalie. Nyffeler's impact on the Rattlers was huge, and he was one of the top goaltenders in the league, which included Sergei Bolshakov (Bulls) and Anton Todykov (Civics) who are now both in the KHL's affiliate league, the VHL. Nyffeler posted a 2.17 GAA (3rd Overall), 0.936 S% (2nd Overall), 18 Wins (2nd Overall) in 25 Games Played, which was good enough to earn Nyffeler the honours of GMHL All-Star (Team World).
Nyffeler's play was impressive, and teams at the professional level took notice of his play, and during the 2013-2014 Season, Nyffeler received a PTO in the NLB with HC Thurgau. Nyffeler spent a month between December and January with HC Thurgau, where he earned a contract for the 2014-2015 Season before returning to the Rattlers before the start of the playoffs.
Nyffeler's play continued into the playoffs where in 14 Games Played, he posted a 2.29 GAA (2nd Overall) 0.938 S% (2nd Overall) 533 Saves (1st Overall) 10 Wins (2nd Overall), back-stopping the Rattlers to a second straight Russell Cup Finals. The Russell Cup Finals featured a goalie battle between Nyffeler and Bolshakov, with low scoring one goal games, unfortunately for Nyffeler and the Rattlers, the Bradford Bulls would end up claiming the Russell Cup.
With an impressive season behind him, Nyffeler was ready to get started with HC Thurgau in the NLB. Nyffeler became the starting goalie for HC Thurgau for the next two seasons, and in 2015-2016 he even received a call up to the NLA, Switzerland's top professional league for SCL Tigers.
In 2016-2017, Nyffeler signed with a new team in the NLB, becoming the starter at EHC Olten, where he would post a 2.12 GAA and 0.923 S% in 22 Regular Season Games for the team, and earning the NLB Most Shutouts for the playoffs that season.
Nyffeler again made another move the following season, and signed with HC Ajoie where he has had his most success at the professional level, having a career year. Nyffeler posted a 2.45 GAA 0.921 S% in 34 Regular Season Games and a 2.12 GAA 0.936 S% in 11 Playoff Games Played, helping them to a deep playoff run which earned him a one-year extension with HC Ajoie for the 2018-2019 Season, where he enjoyed another great year posting a stat line of 2.03 GAA .915 S% in 31 Regular Season Games Played and a 2.52 GAA .907 S% in 7 Playoff Games Played.
Nyffeler has now agreed to terms with NLB team EHC Kloten on a two-year deal. EHC Kloten was relegated to the NLB from the NLA for the first time in it's franchises history in the 2017-2018 season, and has since been in a rebuild in order to get promoted back to the NLA. The staff at EHC Kloten believe that Nyffeler will be an important piece in their goal of promotion.
Assistant Coach and Sports Manager for EHC Kloten, Felix Hollenstein said about Nyffeler, "With Dominic Nyffeler we were able to aquire a secure support for the upcoming season. He is one of the top goaltenderss in the Swiss League and his many years of experience and the calmness he radiates on the ice will help us to stabilize our defence."
The NLB is one of the top professional leagues in European hockey, and some of the most elite players have played in this league including the 2017 1st Overall NHL Draft Pick Nico Hischier. Specifically, Nyffelers team has had NHL alumni such as Rod Brind'Amour, Olli Jokinen, and Brooks Laich play for their team.
The GMHL is proud to see one of it's alumni playing at this level of hockey, and we hope that Nyffeler has continued success at the professional level.