GMHL Alumni Nils Berger Signs with EHC Visp in the NLB
This will be his tenth season of professional hockey in Switzerland
June 14th, 2019 at 11:11AM
June 14th, 2019 4:12PM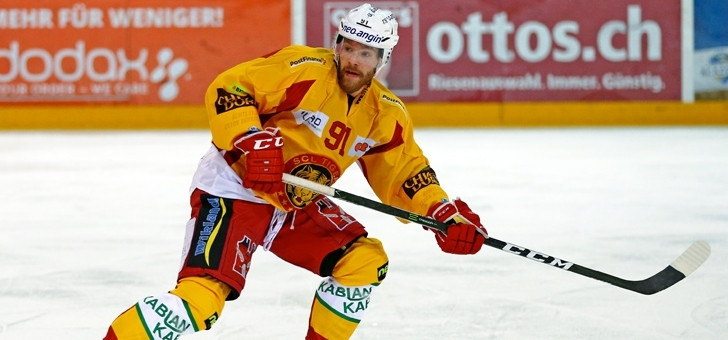 ---
Visp, Switzerland- Former GMHL player, Nils Berger, has signed a two-year deal with NLB team EHC Visp.
Berger joined the GMHL for the Innisfil Lakers in 2009-2010, and immediately became an impact player for the Lakers, and garnered a lot of attention throughout the league. Nils was a top prospect in Switzerland before he came to Canada, playing for Switzerland's U18 National Team, and there was a lot of hype to him. Nils would go on to enjoy a tremendous season, posting 20 Goals 31 Assists for 51 Points in 35 Games Played, earning himself the honour of becoming GMHL All-Star. He also saw playing time at the International level, playing for Switzerlands National Team while still with the Lakers. Berger continued his production in the playoffs, posting 1 Goal 4 Assists for 5 Points in 3 Playoff Games, however, it wasn't enough to keep his team from being swept in the first round.
Berger's play was impressive, and teams at the professional level took notice of his play, and in the following 2010-2011 Season, Berger signed his first professional contract with Rapperswil-Jona Lakers of the NLA, the top league in Switzerland. Berger would go on to play five seasons with Rapperswil, amassing 181 Games Played and 24 Points for the team.
In 2015-2016, Berger signed with a new team in the NLA, the SCL Tigers, where he would play for the next four seasons, playing a total of 99 Games for the Tigers, and posting 21 Points. After nine years in the NLA, Berger is now going to be playing out of the NLB after signing a two-year deal with EHC Visp.
The NLA and NLB are some of the top professional leagues in European hockey, and some of the most elite players have played in this league including the 2017 1st Overall NHL Draft Pick Nico Hischier. .
The GMHL is proud to see one of it's alumni playing at this level of hockey, and we hope that Berger has continued success at the professional level.