Former Rattlers Forward Matus Matis Signs with LHC Lyon (France)
This will be his second year in France's top league and his seventh professionally
June 19th, 2019 at 8:11AM
June 19th, 2019 1:17PM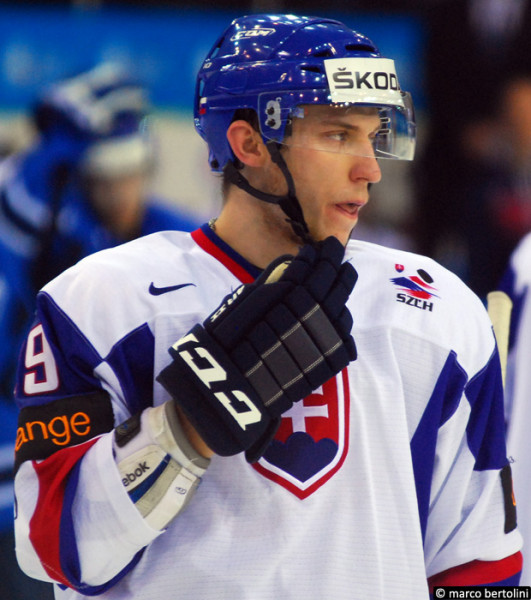 ---
Lyon, France- Former Bradford Rattlers forward Matus Matis has signed for LHC Lyon who plays out of the top league in France.
Matus was signed to the Rattlers in 2009 as a sixteen year old from U18 Czech. In his rookie season, Matis scored 26 goals and 45 points in 41 games. His impressive rookie play caught the eye of the Chicoutimi Sagueneens QMJHL who took him in the first round, #18 Overall in the CHL import draft.
He played 33 games in the QMJHL before returning to Bradford for a playoff run in 2010-11. In his second stint with Bradford, Matis scored 14 goals and 21 points in just 12 games.
The following off-season, Matis was named to Slovakia's World Junior Team. Slovakia took a new approach to developing their team; the entire U20 squad played together in Slovakia's top professional league, up until the tournament. In Europe's International Junior Tournament held in the summer, Matus played at a point-per-game pace with 4 points in 4 games.
Matis would go on to play in the World Junior Championship in 2013, where Matis was on Slovakia's first line, playing with and against the world's top NHL prospects. Matus scored the first goal for Team Slovakia and notched an assist against Team Canada. He ended the tournament with five points in six games.
Matis would go on to play professional hockey in Slovakia's top league for the next five years where he would put up fifty-four points in one hundred and seventy four games. However, in the 2013-2014 season, he would be loaned out to his teams affiliate team, which played in Slovakia2, where he would win the Championship.
After five years at the top level in Slovakia, Matis looked elsewhere in Europe to play hockey before ending up in France's top league, and signing a one-year deal with Nice. Matis immediately became a top player for Nice, putting up some impressive stats, finishing the year with 17 Goals 17 Assists for 34 Points in 43 Games Played. His team would end up being swept in the first round of the playoffs though. However, Matis made his mark on the league this past season, and has been signed to a one-year deal with Lyon.
Lyons Coach Gérald Guennelon said that a player like Matis is hard to find when speaking to the media about the signing, "We looked very closely at Matus Matis. Eric Medeiros knows him, having seen him played against Lyon this season, and I have watched many of his games as well. He has certain offensive qualities, he works in both directions and he is a player that's not easy to find. He is a big body, which is important to create power within the team as well as the fact that he is a two-way player who participates in the defensive side of the game. He is a proven player, in the right age bracket for us, he has high level experience and all these things make him seem like a good pick for next season. "
France is one of the upcoming leagues in Europe, and has been producing great players that move on to the higher ranks of hockey, all the way up to the NHL, such as Pierre-Edouard Bellemare, the Assistant Captain of the Vegas Golden Knights. It is great to see a GMHL alumni continue his career professionally, and we wish Matus the best of luck next season.