Niagara Whalers participate in Family Fun Night in Port Colborne
The Whalers assisted St. John Bosco Catholic School with their event
June 25th, 2019 at 9:23AM
June 25th, 2019 2:28PM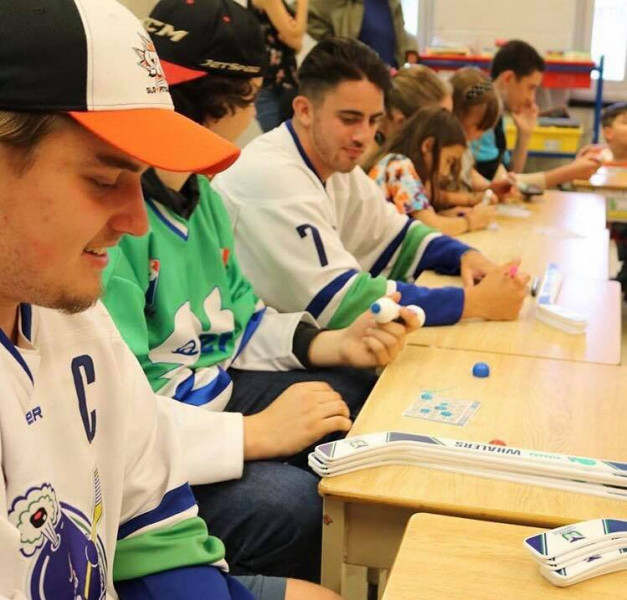 ---
Port Colborne, Ontario- The GMHL wrapped up it's season in late March when the Ville-Marie Pirates won the Russell Cup, marking the beginning of the off-season. The beginning of the off-season usually starts off with a break, allowing the players to take a break after a long, hard fought season.
We are now about two months into the off-season, and two months away from the start of the next season, and players have started to return to the ice and head to the gym, where they will work hard in order to get ready for the next season.
The Whalers aren't just working hard off the ice in the gym this off-season though, but have recently participated in a community event, assisting St. John Bosco Catholic School in their Family Fun Night.
On June 22, St. John Bosco Catholic School held a Family Fun Night, with many activities, and a barbeque. The Whaler's were asked to take part in this event, and they gladly accepted. Many of the players that participated in this event were local too, adding a personal connection to the community. Players helped out with various activities, including cooking for the barbeque, as well as handing out mini-sticks to all of the students.
The Whalers said in a statement, "It is great to take part in giving back to the community, especially with our local players. We would like to extend a huge thank you to St. John Bosco Catholic School for inviting us to be a part of their event. We look forward to seeing them at the Vale Health and Wellness Center next season!"
The GMHL is always proud to see when one of its teams participates in community outreach. We are happy to see that one of its teams is continuing to put in hard work with their community, even during the offseason.