Temiscaming Titans Assistant Captain Signs Professional Contract in Sweden
Joakim Braneby has signed with Lindlövens IF who plays out of HockeyEttan (Division 1)
July 3rd, 2019 at 10:14AM
July 3rd, 2019 3:19PM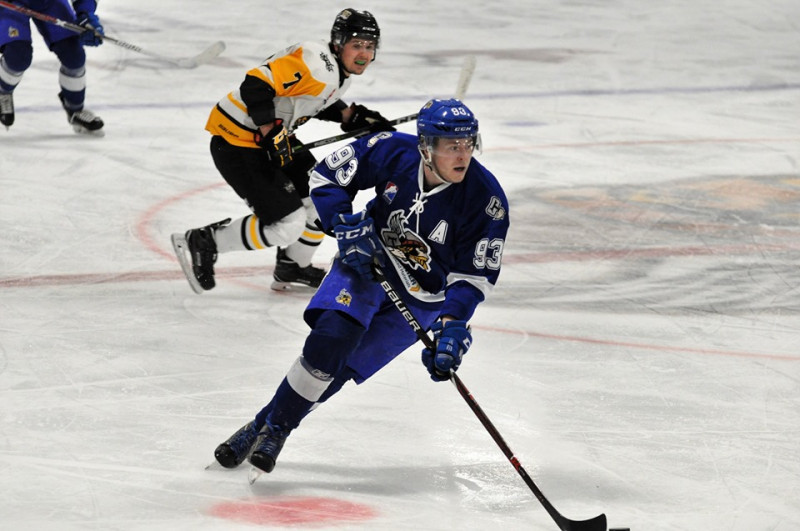 ---
Lindesberg, Sweden- The Temiscaming Titans Assistant Captain, Joakim Braneby has signed a professional contract in Sweden with Lindlövens IF, who plays out of the third tier professional league HockeyEttan, more commonly known as Division 1.
Braneby played two seasons in the GMHL, both of which came with the Temiscaming Titans between 2017-2019. Braneby was a solid asset in his first year with the team, posting 22 Goals 12 Assists for 34 Points in 41 Games Played for the Titans. He was able to adjust his game to the North American style very quickly. He was known for his smooth skating, however, he wasn't afraid to go to the dirty areas of the ice, including the crease. The Titans were happy with his first year, and re-upped Braneby for the 2018-2019 Season where he would take over the leadership role as Assistant Captain. Coming back with a year of experience under his belt, Braneby became an impact player for the Titans, doubling his production from his first year. In the 2018-2019 Season, Braneby scored 40 Goals 29 Assists for 69 Points in 42 Games Played, leading the team in Goals and Points, as well as earning the honour of being a GMHL All-Star. Braneby's two years abroad playing junior hockey caught the attention of his local professional team, and soon, he was signed with Lindlövens IF for the 2019-2020 Season.
The Temiscaming Titans are happy to see Braneby advance to the professional ranks, "Braneby was an excellent player for the Temiscaming Titans, playing a complete two-hundred foot game, even getting into the difficult area. We are happy to see him sign a professional contract, and we wish Joakim the best of luck in his professional career. He will be missed by the Titans, including teammates, fans, and friends though."
Braneby's new team is looking forward to having him back in Sweden, "We are happy to have Joakim Braneby return. Braneby was apart of our youth program, before moving over to Canada to play junior hockey, where he was a productive player for the Temiscaming Titans. Braneby is a large, strong, and technical forward and brings a lot of experience with him. It will be very fun to see what he can do this season, and we welcome him home."
HockeyEttan (Division 1), is the third highest level of professional hockey in Sweden, and has a lot of high-level players, who advance to higher levels of professional hockey, including: Allsvenskan, SHL, ECHL, AHL, and even the NHL. Alumni from this league include NHL players, such as Patric Hörnqvist and Henrik Zetterberg. It is great to see players from the GMHL signing at this level of hockey, and we hope to see more in the future.
Congratulations to Braneby of signing with Lindlövens IF for the 2019-2020 Season, and we wish him the best of luck next season.