Alumni Spotlight: From the GMHL to the NCAA D1
Following the path of two players that started their junior careers in the GMHL
November 11th, 2022 at 8:56AM
November 11th, 2022 2:59PM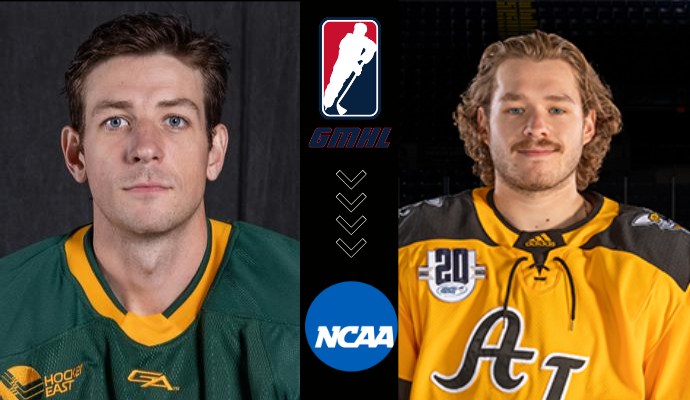 ---
The focus of the GMHL is to give players the opportunity to play at the next level. With a growing player advancement, the league will continue to exhibit the talents that have played in our league and that move on to higher levels.
Our Alumni Spotlight segment continues with Blake Bennett and Joseph Leahy who are two players that started their junior hockey careers in the GMHL. Both of them played for the Halton Ravens, Blake in 2014-2015 and Joseph in 2013-2014.
Blake is currently studying and playing hockey at the American International College (AIC) in NCAA division 1. The school is a private college in Springfield Massachusetts that was originally established in 1885. Blake is currently in his senior year at AIC and is the top point getter and the top goal scorer of his team with 8 goals and 6 assists for 14 points in 11 games. Before playing for AIC, Blake played for the Halton Ravens in 2014 where he posted 16 goals and 23 assists for 39 points in 30 games. He then went on to play in the NAHL in 2018 for the Corpus Christi IceRays in the NAHL where he tallied 22 goals and 38 assists for 60 points in 59 games. So far in his NCAA career, Blake has played 53 games, scored 30 goals and 21 assists for 51 points.
Joseph is currently studying and playing hockey at the University of Vermont. The school is a public land-grant research university in Burlington Vermont, and was founded in 1791. Blake is a Graduate student at the school and as of right now has no points in 7 games and 6 penalty minutes. Before playing in Vermont, Joseph started his junior hockey career with the Halton Ravens where he posted 3 goals and 13 assists for 16 points in 26 games as a defenseman. He then spent some time in the OJHL and the BCHL before playing at Cornell University for 2 season. After the pandemic forced him out of the 2020 season, he transferred to the University of Vermont in 2021. In 74 games played in the NCAA, Jospeh tallied 6 goals and 16 assists for 22 points as well as 40 penalty minutes and a plus minus of +15.
All the best to Blake and Joseph in their educational and athletic endeavours!