Former Ravens Forward Bennett Nominated for Hobey Baker
January 25th, 2023 at 3:01AM
January 25th, 2023 10:40AM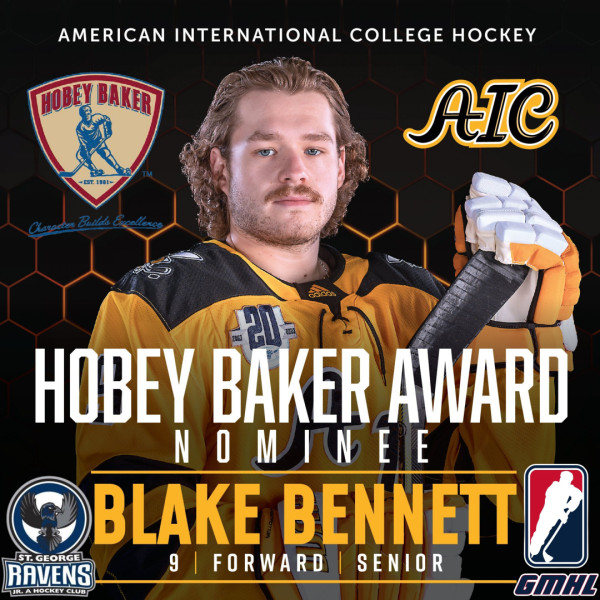 ---
The focus of the GMHL is to give players the opportunity to play at the next level. With a growing player advancement, the league will continue to exhibit the talents that have played in our league and that move on to higher levels.
Our Alumni Spotlight today features a player who started his junior hockey career in the GMHL and has now been nominated for the most prestigious award in all of Division l College Hockey as Blake Bennett has been nominated for the Hobey Baker Award. Bennett's first year of junior hockey was spent with the Halton Ravens (Now St. George) in 2014-2015. Blake put up 39 Points in 30 games playing alongside his brother Shane (who would go onto with the GMHL MVP award that year before pursuing college hockey himself and eventually pro where he has spent the past 5 years in the SPHL and ECHL). Following his year with the Ravens, Blake went on to play 4 years of junior hockey eventually finding a home in Corpus Christi with the Ice Rays of the NAHL. It was during his time with the Ice Rays he committed to AIC
Blake is currently studying and playing hockey at the American International College (AIC) in NCAA division 1. The school is a private college in Springfield Massachusetts that was originally established in 1885. Blake is currently in his senior year at AIC and is the top point getter and the top goal scorer of his team with 16 goals and 9 assists for 25 points in 27 games. So far in his NCAA career, Blake has played 69 games, scored 38 goals and 24 assists for 62 points.
Congratulations to Blake on his Hobey Baker nomination. Voting is currently underway and we encourage all to cast a vote for Blake at https://hobeybaker.com/awards/vote-for-hobey/