Game of the Week Recap: Pirates Stop the Rattlers in Bradford
Pirates take a 6-3 win to stop the Rattlers winning streak at three
October 24th, 2022 at 11:58AM
October 24th, 2022 5:01PM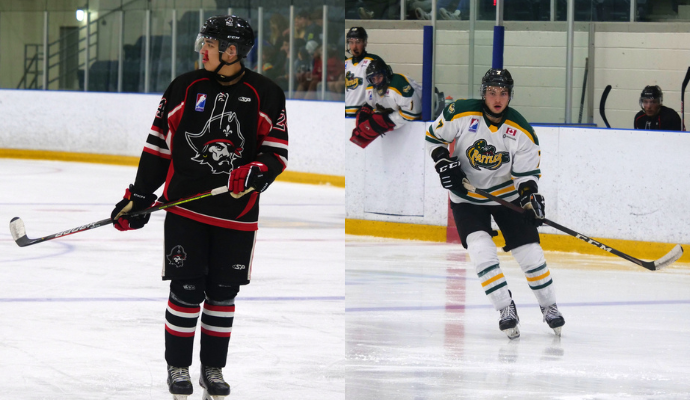 ---
This weeks game of the week showcased the Ville-Marie Pirates against the Bradford Rattlers at the BWG Leisure Centre in Bradford.
The first period saw both teams strike three times for a 3-3 tie after 20 minutes. It was an unassisted penalty kill goal by Mathis Chartier (04:35) that started the scoring. The Rattlers then responded with a shorthanded goal of their own with a goal by Stepan Levitskiy (06:07) assisted by Swen Meusy. A bit over a minute after their tying goal, the Rattlers scored a power play goal to take a 2-1 lead thanks Jacob Rhodin (07:21) assisted by Swen Meusy and Hunter Godmere. The Pirates tied the game thank to a unassisted goal by Olivier Lamothe (12:40). Adam Witkowski of the Rattlers gave a 3-2 lead to the Rattlers with a power play goal (16:01) assisted by Stefan Levitskiy and Swen Meusy. Only to see Jordan Rochon (19:01) assisted by Alex Selina's tie the game at 3.
No goals were scored in the 2nd period and it was not until the 14th minute of the 3rd that the Pirates took a 4-3 lead with a power play goal scored by Olivier Boucher assisted by Xavier Gagnon. The pirates added two empty net goals to finish the game at a 6-3 score.
The three stars of the game went to (1) Maxim Audet who posted 41 saves and a .932 save percentage,(2) Xavier Gagnon with 1 goals and 1 assist, and (3) Swen Meusy with 3 assists.
Shot were 44 to 35 in favour of the Rattlers.
The Pirates next game will be October 28th versus the South Muskoka Shield. While the Rattlers will be playing the West Nipissing Lynx on the same day.