Game of the Week Recap: Renegades Reign Supreme
The battle for the top of the South division led to a thrilling 5-2 victory for North York
October 27th, 2022 at 8:52AM
October 27th, 2022 1:54PM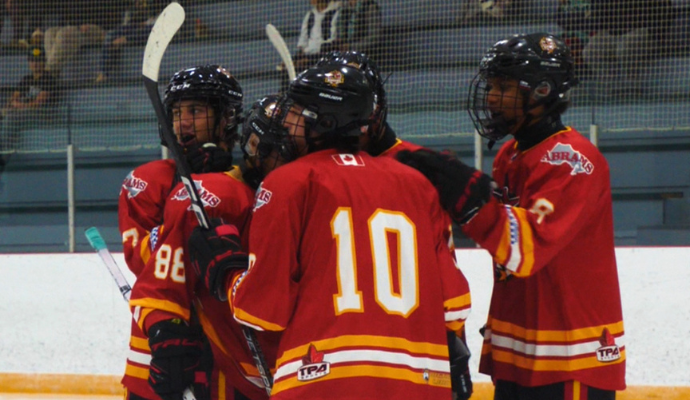 ---
The battle for the top of the South division led to a thrilling 5-2 victory for the North York Renegades.
The first period saw the Renegades jump to an early lead with a goal by Joseph Lionti (00:45) assisted by Ryan Fritz and Daniel Johnson. Then, there wasn't a goal scored until Nikolai Salov (19:45) scored a goal assisted by Jedidja Somersault and Joseph Lionti. 15 seconds later, the Bulls responded with a goal by Dylan Bauer (20:00) assisted by Conner Gardiner and Hutton Burgess.
The second period was all North York as they scored 3 unanswered goals. Nikolai Salov (12:32) assisted by Dylan Labelle and Jedidja Somersall. Then Joseph Lionti scored his second of the game (17:45) assisted by Jedidja Somersall and Daniel Johnson. At (19:58) Joseph Lionti completed the Hat-Trick with a goal assisted by Ryan Fritz and Michael Christopoulos.
The third period saw Haiden Lambert as the lone goal scorer of the period for the Bulls to make it a 5-2 game. Josh Booker and Ryan Hunter picked up the assists.
Shots were 15-10 in the first, 18-13 in the second, and 13-12 in the third. For a total of 46-35 shots in favour of the North York Renegades.
Three stars of the game went to Joseph Lionti (3G-1A), Nicholas Lewicky (33SV-.943SC%), and Nikolai Salov (2G)
North York Renegades (10-0-0-0) 1st place in the South
Bradford Bulls (9-1-0-0) tied for 2nd in the South