GMHL All Stars and Top Prospect Games Recap
The Rockhounds thank everybody who took part in the entertaining event
January 19th, 2023 at 8:47AM
January 19th, 2023 2:50PM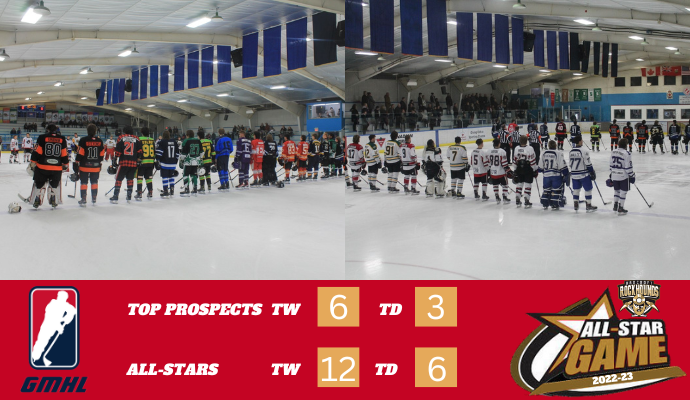 ---
On January 17, 2023 the Bancroft Rockhounds hosted the 2022/23 GHML All Star games.
The event started out with a luncheon for all players, coaches and event staff. We were honoured to have with us guest speaker Brady Leavold, the founder of Puck Support, an organization that focuses on supporting hockey players through addiction and mental health issues. This was followed by the U18 All Star Game.
It was an evenly matched game which proved to be scoreless for almost 10 minutes. Team White opened the scoring at 10:21 in the first and followed up with their second goal of the game scored by Felix Tougas from the host team, Bancroft Rockhounds and was assisted by his linemate with the Rockhounds, Xavier Dumont- Renaud. With 27 seconds left in the period Team Dark got their first point of the night from Niko Andreopoulos from the North York Renegades. Team White scored twice in the second with goals coming from Stepan Levitskiy from the Bradford Rattlers and Ivan Kozlenko from the Temiscaming Titans. Team Dark answered back with a goal from Pavel Smirnov from the Northumberland Stars. The 3rdperiod ended with 2 goals from Team White and 1 from Team Dark. Final score Team White 6, Team Dark 3.
The U21 game provided fans with some great entertainment and showed some spectacular skill. Again the first period was intense and scoreless until the 5 minute mark when Tomas Coupek from the Meaford Knights opened up the scoring. Team White's second goal of the game came with 56 seconds left in the period. The second period showed goals from Declan Flanagan, Jaxon Krupa, Michael Beaverbones and Tomas Coupek for Team White and Alex Kronewitt and Hayden Webster from Team Dark. Team Dark had an excellent showing in the 3rd with goals from Joseph Lionti, and a hat trick from Trevor Urquhart. Team White came out on top with excellent goaltending from Igor Kulakov of the Bancroft Rockhounds who obtained a shutout during his time between the pipes. The final score of the game was Team White 12, Team Dark 6.
Between periods the fans were entertained with skills competitions consisting of a shootout and relay events.
The Bancroft Rockhounds would like to thank the following people for their parts in making this event a huge success.
- Town of Bancroft
- Staff of North Hastings Community Centre
- Bancroft Minor Hockey
- Bancroft Jets Girls Hockey Association
- Mount Zion Retreat Centre Kitchen Staff
- York River Pubic School
- Moose FM
- Bancroft Rockhounds Players
- George & Heather Eastman
- Brady Leavold
- Steve Scally
- Martin Budarick
- Missy Bodden
- Garland & Eleanor Burkitt
- Gordie Garrett
- Emma Dafoe
- Jeff Mills
- North Hastings High School
- Samantha Marson
- Abbygail Eastman
- All GMHL teams, staff and ownership