GMHL All Stars and Top Prospect Games: Special Guest Announcement
The GMHL is proud to have the founder of Puck Support as a guest speaker
January 10th, 2023 at 10:00PM
January 11th, 2023 4:08AM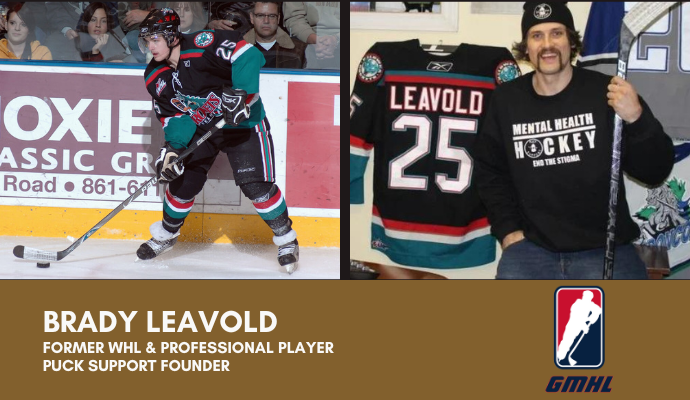 ---
With the All-Star game, comes a spectacle filled with talent and entertainment. It is a platform where the best can compete with the best and prove to themselves, teams, and scouts that they can compete at the highest of levels. With all of that being at the forefront of the event, the Greater Metro Junior Hockey League felt that it was important to have a guest speaker. This guest speaker is very special as he is at the forefront of ending the stigma related to mental health and substance misuse in the game of hockey. As a league, we feel that it is important to introduce these types of conversations to our players and provide them with platforms that will educate them on this topic.
The GMHL is very proud and honoured to introduce our All-Star game guest speaker Brady Leavold. Brady is the founder of the non-profit organization Puck Support. Puck Support is an organization that aims to ignite change in mental health and substance misuse by setting the hockey world in motion. Their vision is to create powerful conversations surrounding the topics of mental health and substance misuse. Using hockey as the vehicle, partnering with like minded people and organizations to create lasting and impactful change.
Brady played hockey at the professional levels spending some time in the ECHL and the AHL. The 35 year old right winger played 200 games in the Western Hockey League scoring 47 goals and 73 assists for 120 points, along with 390 penalty minutes. He followed his junior hockey success with games in the ECHL with the Victoria Salmon Kings and 4 games in the AHL with the Norfolk Admirals.
After his career, Brady decided to start Puck Support for everyone in the hockey community and decided to make it his life mission to do everything in his power to provide each individual with the education and resources to try to put an end to tragedies relating to mental health and substance misuse.
Brady will be speaking during the lunch at the All-Star game in Bancroft. Everyone is encouraged to come and listen to him speak of his initiative and his experience.
See you all on Tuesday January 17th!
Note: All the information you need to know about Puck Support and Brady Leavold can be found on their website listed below:
https://www.pucksupport.com/puck-support-brady-leavold-mental-health-hockey